Results: 1-12 of 100+ products
Molecular Cloning on ZAGENO
Can't find what you are looking for? Request the product now and we'll find it for you (typically within 1 hour).
Request Product
Cloning Applications
Molecular cloning allows for the assembling of recombinant DNA in a vector, typically a plasmid vector, to express target genes in a host organism. Molecular cloning is the first step in virtually any molecular biology experiment, including PCR, mutant analysis, protein tagging and protein purification.
Expand your understanding in our Knowledge Section. Perfect your experiments with our Troubleshooting Guides. Join in the discussion within our Community. Learn about ZAGENO at How It Works.

The different cloning systems
Cloning kits provide ligase, plasmid vectors and all the reagent you need to start your cloning experiments. Cloning products are generally divided into the different categories based on the cloning methods used:
Classic ligation-based cloning

Gateway® (proprietary)

TOPO® systems (proprietary)
Ligation cloning is an efficient and cost-effective solution for standard cloning applications. It is based on the use of vectors containing multiple cloning sites: sections of the vector plasmid containing restriction enzyme cutting sites. This means that the choice of vector, for both expression and subcloning, will not only depend on your application but will also influence your PCR strategy, as you will need to insert compatible restriction enzyme endings on your amplified fragment.
Moreover, restriction digestions can create sticky (cohesive) and blunt ends: depending on the cloning strategy. Conveniently, there are dedicated kits for both blunt and sticky end ligations.
Whether you plan on cloning the same fragment into different expression vectors, fusing the same protein on different tags, or doing an extensive promoter swap experiment, it is a good idea to use a recombination-based system like Gateway® cloning. Gateway® is based on recombination rather than restriction and ligation and allows for the "swapping" of inserts between subcloning vectors (called pDONR vectors) and expression vectors. This method also allows for the combination of multiple donor vectors to create complex fusion proteins.
TOPO® cloning is based on a different concept but allows reusing vectors for multiple clones as in the Gateway system.
Any issues which arise during your experiment can be tackled with our Molecular Cloning Troubleshoot.
Compare Ligation Cloning Kits (Blunt End)
With our compare function, you can avoid all the time and energy wasted sifting through multiple web pages from different suppliers. At ZAGENO you can clearly see kits side-by-side, with the relevant attributes for each kit neatly in line for easy selection of the best product for you.
Click on the comparison below for a clearer view!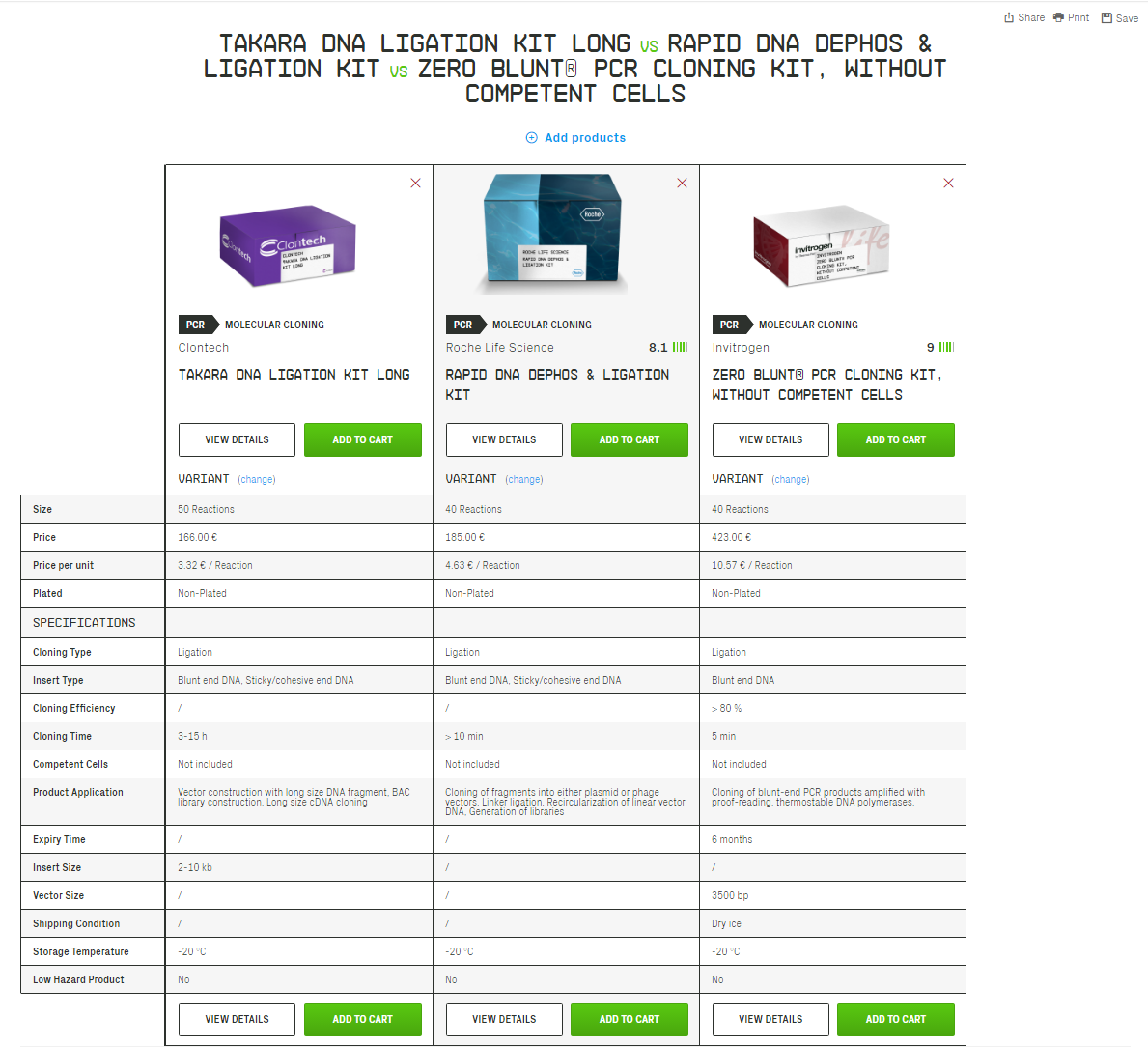 For example, this comparison shows:
that the TAKARA DNA LIGATION KIT LONG from Clontech is the cheapest per reaction.

that the RAPID DNA DEPHOS & LIGATION Kit from Roche Life Science has a wide range of applications, including cloning into phage vectors.

that the ZERO BLUNT® PCR CLONING KIT, WITHOUT COMPETENT CELLS Kit only requires five minutes cloning time.
This comparison clearly exemplifies how every kit has strengths and weaknesses. Depending on what features you require for your experiment, these details should enable you to make an informed decision on the right kit for you.
The ZAGENO comparison does not highlight one kit to be better than the other, as the kit of choice may vary between researchers - depending on each individual's preferred attributes. The best kit is the one that meets your needs - ZAGENO allows you to make an informed decision with minimum effort.
Check out our How It Works page for a guide to using the comparison function.
Video and Image Credits
Video: The University of Sydney/YouTube