Results: 1-12 of 100+ products
Real-time PCR (qPCR) Kits on ZAGENO
Can't find what you are looking for? Request the product now and we'll find it for you (typically within 1 hour).
Request Product
qPCR Function
Real-time PCR is a technique that monitors DNA amplification in real-time rather than at the end of the PCR run, as is the case for End-Point PCR. With the added step of fluorescent labeling, it is possible to quantify the abundance of the amplified DNA using so-called quantitative real-time PCR (qPCR). When qPCR is used in combination with reverse transcription and cDNA synthesis, this is called RT-qPCR, a common technique for the analysis of gene expression.
Read about how qPCR has aided recent research: HIV 'Cure'? Kick and Kill Breakthrough
Expand your understanding in our Knowledge Section. Perfect your experiments with our Troubleshooting Guides. Join in the discussion within our Community. Learn about ZAGENO at How It Works.

How does Real-Time PCR work?
Here at ZAGENO, you can find kits for different templates, such as:
Real-time PCR (qPCR) kits will provide polymerases, oligonucleotides, and buffers for your experiments. Before comparing kits from different suppliers on our product page, though, there are a few factors to consider:
You should keep in mind the size of your amplicon. While in general qPCR amplifies short fragments of around 150 bases, there are polymerases with higher processivity. A side note: if you plan on performing Hot Start qPCR (prevents non-specific amplification at room temperature), look for kits including enzymes suitable for this application.

If you expect to amplify a template present in low quantities in your sample, consider kits that use SYTO 9 as an intercalating dye, which has higher sensitivity. For standard applications, SYBR Green I is still an excellent choice.

Alternatively, probe-based qPCR, use labeled fluorescent probes instead of intercalates. In doing so provides excellent sensitivity for sequence–specific detection, but need to be prepared specifically for your template beforehand.

If you are using RT-qPCR, make sure to pick a one- or two-step kit, according to your experimental setup.
ZAGENO's Real-Time PCR Troubleshoot will help guide you through any diffculties encountered.
Compare Real-Time PCR Kits!
With our compare function, you can avoid all the time and energy wasted sifting through multiple web pages from different suppliers. At ZAGENO you can clearly see kits side-by-side, with the relevant attributes for each kit neatly in line for easy selection of the best product for you.
Click on the comparison below for a clearer view!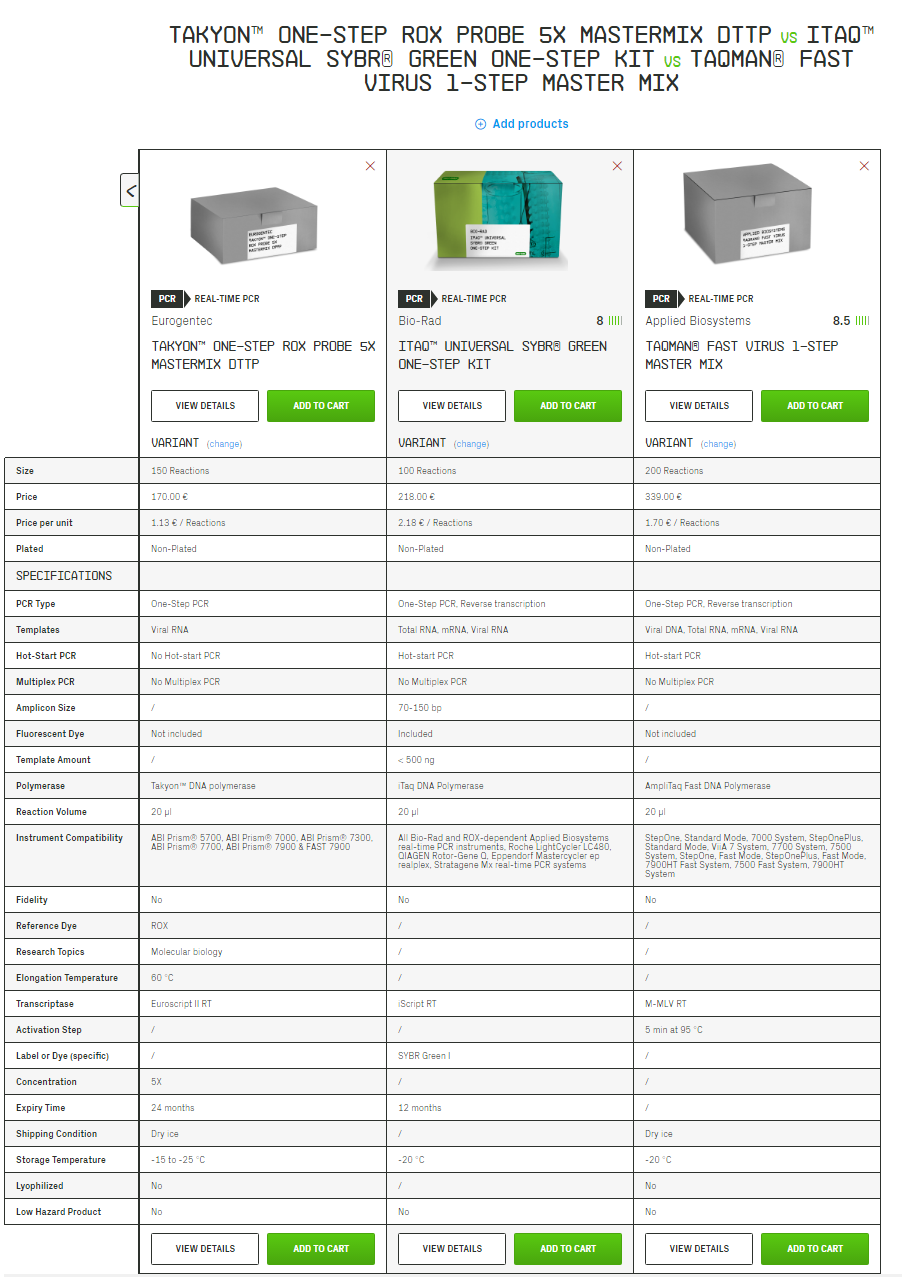 For example, this comparison shows:
that the TAKYON™ ONE-STEP ROX PROBE 5X MASTERMIX DTTP kit from Eurogentec is the cheapest per reaction.

that the ITAQ™ UNIVERSAL SYBR® GREEN ONE-STEP KIT from Bio-Rad includes a fluorescent dye.

that the TAQMAN® FAST VIRUS 1-STEP MASTER MIX from Applied Biosystems can also use Viral DNA as a template.
This comparison clearly exemplifies how every kit has strengths and weaknesses. Depending on what features you require for your experiment, these details should enable you to make an informed decision on the right kit for you.
The ZAGENO comparison does not highlight one kit to be better than the other, as the kit of choice may vary between researchers - depending on each individual's preferred attributes. The best kit is the one that meets your needs - ZAGENO allows you to make an informed decision with minimum effort.
Check out our How It Works page for a guide to using the comparison function.
Video Credits
sccwrp/YouTube