Results: 1-12 of 69 products
Quantification Kits on Zageno
Molecular & Process Rate Quantification
Quantification of a sample is possible by many different methods: colorimetry, fluorescence, and luminescence, just to name a few. All of these detection techniques have varying sensitivities and accuracies, but allow us to quantify: DNA, gene expression, antibodies and cells (including their rate of growth and death).
Expand your understanding in our Knowledge Section. Perfect your experiments with our Troubleshooting Guides. Join in the discussion within our Community. Learn about ZAGENO at How It Works.

Cell (Proliferation/Viability/Apoptosis) Quantification
It is important to quantify cells to provide the optimal cultivation environment and cell density. Otherwise, cells may behave unexpectedly or undergo cell death. Accurately measuring cell numbers is also essential for ensuring a big enough sample for future experiments.
It is also possible to quantify cell proliferation/growth using MTT kits, which is a colorimetric assay able to measure mitochondrial reductase activity in live cells.
Measuring cell viability can also be carried out using fluorometric or colorimetric assays. However, each assay uses a different marker of cell health to quantify viability, such as cell membrane integrity or enzyme activity.
Gene Expression Quantification
Gene expression can easily be quantified using kits such as the luciferase assay, a highly sensitive technique which uses luminescence produced by the transfected firefly luciferase enzyme, since the luminescence is proportional to target gene expression.
The SEAP assay, a colorimetric assay, uses transfected Secreted Alkaline Phosphatase (SEAP) as a reporter of gene expression. In alkaline conditions, the enzyme cleaves colorless 4-nitrophenylphosphate to produce yellow p-nitrophenolate; the intensity of the color is proportional to the expression of the target gene.
Compare dsDNA Quantification Kits
With our compare function, you can avoid all the time and energy wasted sifting through multiple web pages from different
suppliers. At ZAGENO you can clearly see kits side-by-side, with the relevant attributes for each kit neatly in line for easy
selection of the best product for you.
Click on the comparison below for a clearer view!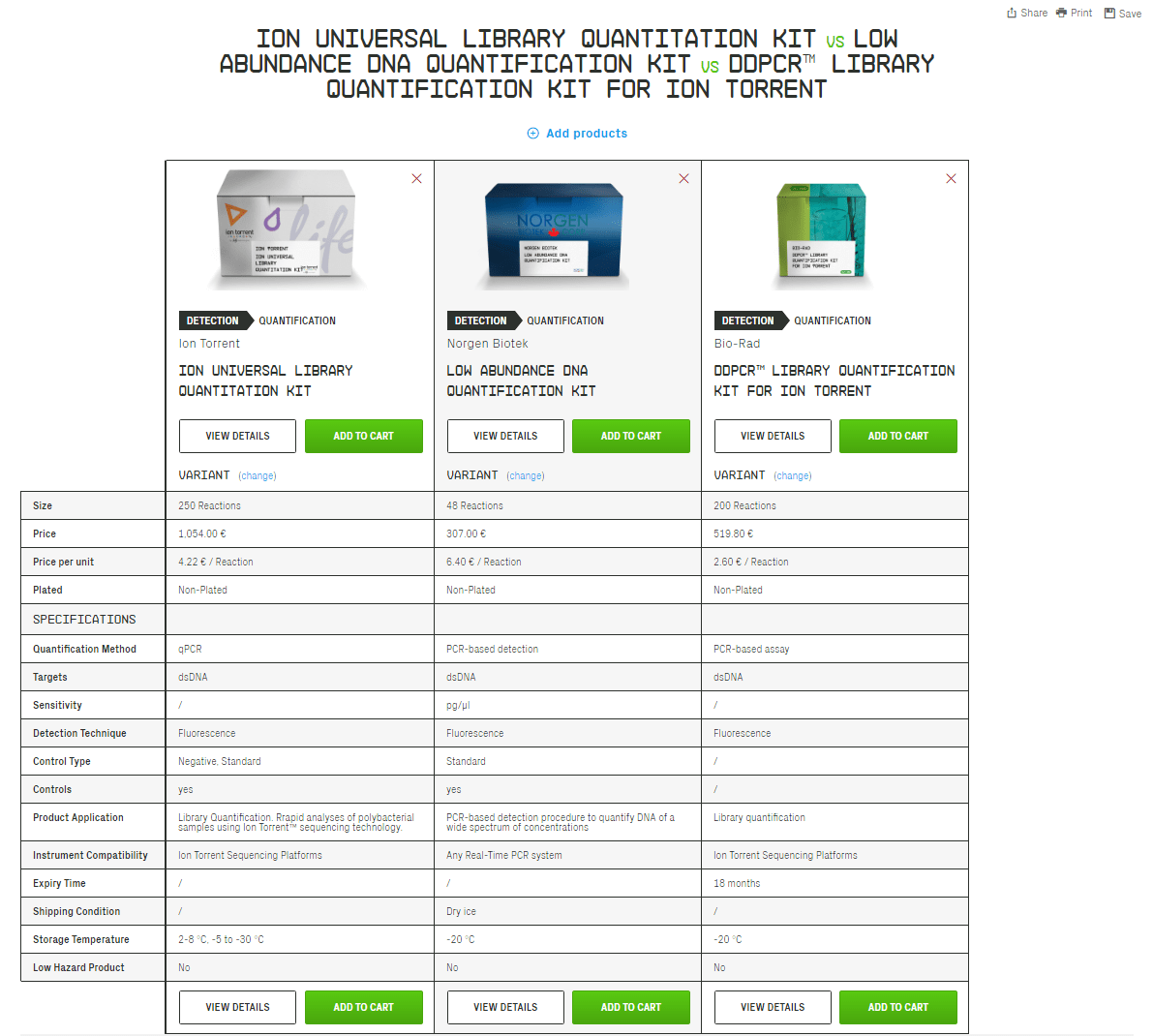 For example, this comparison shows:
that the GION UNIVERSAL LIBRARY QUANTITATION Kit from Ion Torrent is specificall adapted for qPCR.
that the LOW ABUNDANCE DNA QUANTIFICATION Kit from Norgen Biotek has sensitivity at the pg/µl scale.
that the DDPCR™ LIBRARY QUANTIFICATION KIT FOR ION TORRENT Kit from Bio-Rad is the cheapest per reaction.
This comparison clearly exemplifies how every kit has strengths and weaknesses. Depending on what features you require for your experiment, these details should enable you to make an informed decision on the right kit for you.
The ZAGENO comparison does not highlight one kit to be better than the other, as the kit of choice may vary between researchers - depending on each individual's preferred attributes. The best kit is the one that meets your needs - ZAGENO allows you to make an informed decision with minimum effort.
Check out our How It Works page for a guide to using the comparison function.