Results: 1-12 of 100+ products
Detection Kits on Zageno
Detection in Molecular Biology
For routine experimental tests, detection kits can save time. Whether you are testing for contamination or leakage from previous experiments, most involve extracting a target molecule followed by an electrophoresis test to identify whether the speices or contaminant at hand is within the sample. In addition to this, some kits utilize proteins to identify the presence of an organism, using color changes or chemiluminescence methods for quantification.
See Pathogen Detection for viroids, E. coli, and other microbial contaminants.
Expand your understanding in our Knowledge Section. Perfect your experiments with our Troubleshooting Guides. Join in the discussion within our Community. Learn about ZAGENO at How It Works.

Compare Mutation Detection Kits
With our compare function, you can avoid all the time and energy wasted sifting through multiple web pages from different suppliers. At ZAGENO you can clearly see kits side-by-side, with the relevant attributes for each kit neatly in line for easy selection of the best product for you.
Click on the comparison below for a clearer view!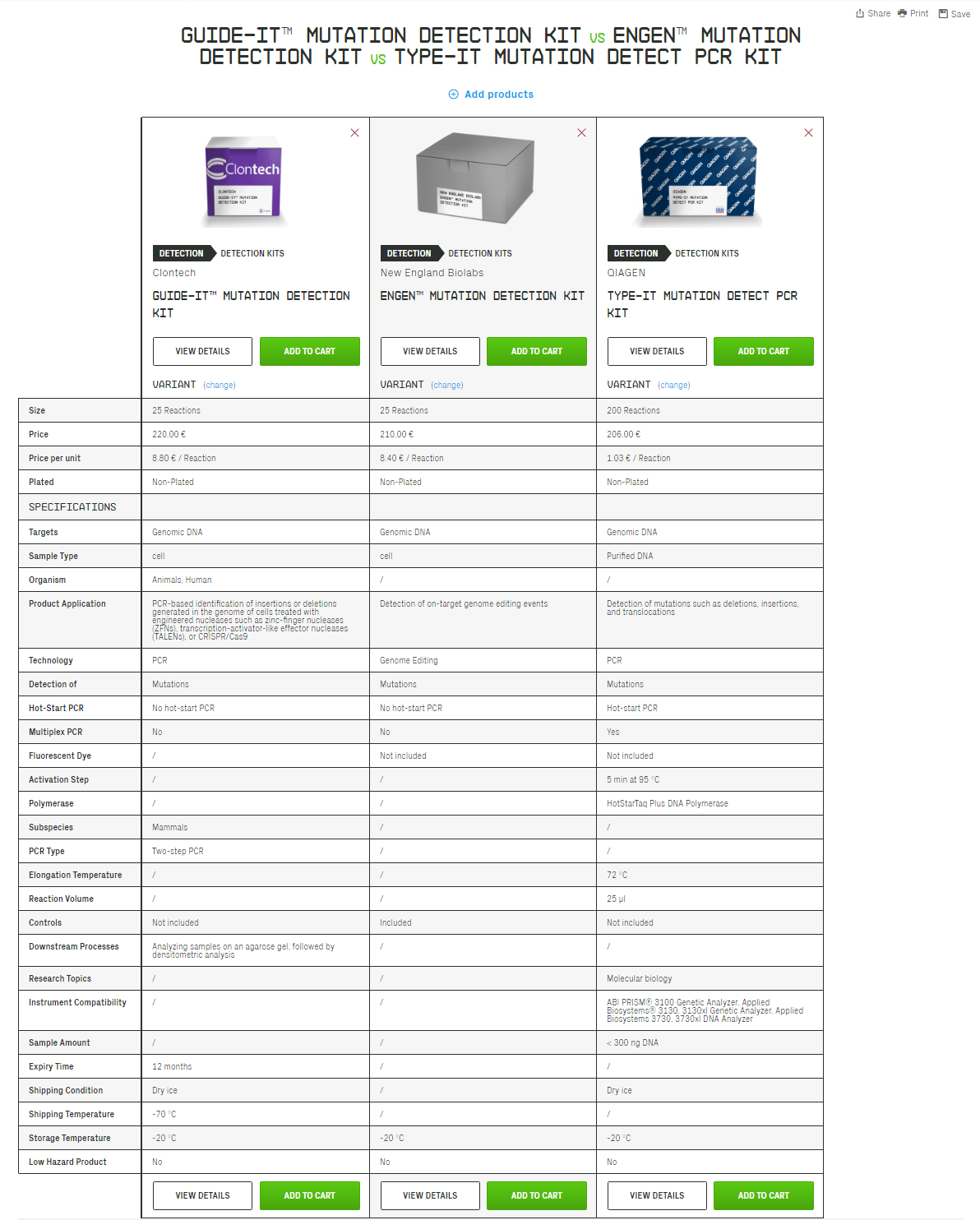 For example, this comparison shows:
that the GUIDE-IT™ MUTATION DETECTION Kit from Clontech can detect experimentally-induced mutations.
that the ENGEN™ MUTATION DETECTION Kit from New England Biolabs includes controls.
that the TYPE-IT MUTATION DETECT PCR Kit from Qiagen is the cheapest per reaction.
This comparison clearly exemplifies how every kit has strengths and weaknesses. Depending on what features you require for your experiment, these details should enable you to make an informed decision on the right kit for you.
The ZAGENO comparison does not highlight one kit to be better than the other, as the kit of choice may vary between researchers - depending on each individual's preferred attributes. The best kit is the one that meets your needs - ZAGENO allows you to make an informed decision with minimum effort.
Check out our How It Works page for a guide to using the comparison function.