Results: 1-12 of 81 products
Molecular Labeling on Zageno
Labeling Applications
Labeling material is often sold separately from their detection kits, so as to add flexibility to your experiments, or in case you run out of a product (we all make mistakes and drop things from time to time). As mentioned before, labeling can identify the location of molecules within the cell or the genome as well as determine their presence or concentration.
Expand your understanding in our Knowledge Section. Perfect your experiments with our Troubleshooting Guides. Join in the discussion within our Community. Learn about ZAGENO at How It Works.

Labeling Methods
The most common means of labeling uses fluorophores, as they are very sensitive and generally do not affect the properties of the target molecule. The process usually involves the binding of the fluorophore to a probe, (quite often an antibody or amine), that will bind the target molecule. When the binding is complete, the fluorescence can be viewed by excitation, through a fluorescent microscope, for example. Fluorescent labeling is required for experiments such as: ELISA, FISH, and fluorescent microscopy, to name a few.
The kit you will require, depends on your target of interest, there are specific kits for labeling DNA, RNA or proteins.
Extra guidance is provided in our Antibody Labeling Troubleshoot.
Compare Antibody Labeling Kits
With our compare function, you can avoid all the time and energy wasted sifting through multiple web pages from different suppliers. At ZAGENO you can clearly see kits side-by-side, with the relevant attributes for each kit neatly in line for easy selection of the best product for you.
Click on the comparison below for a clearer view!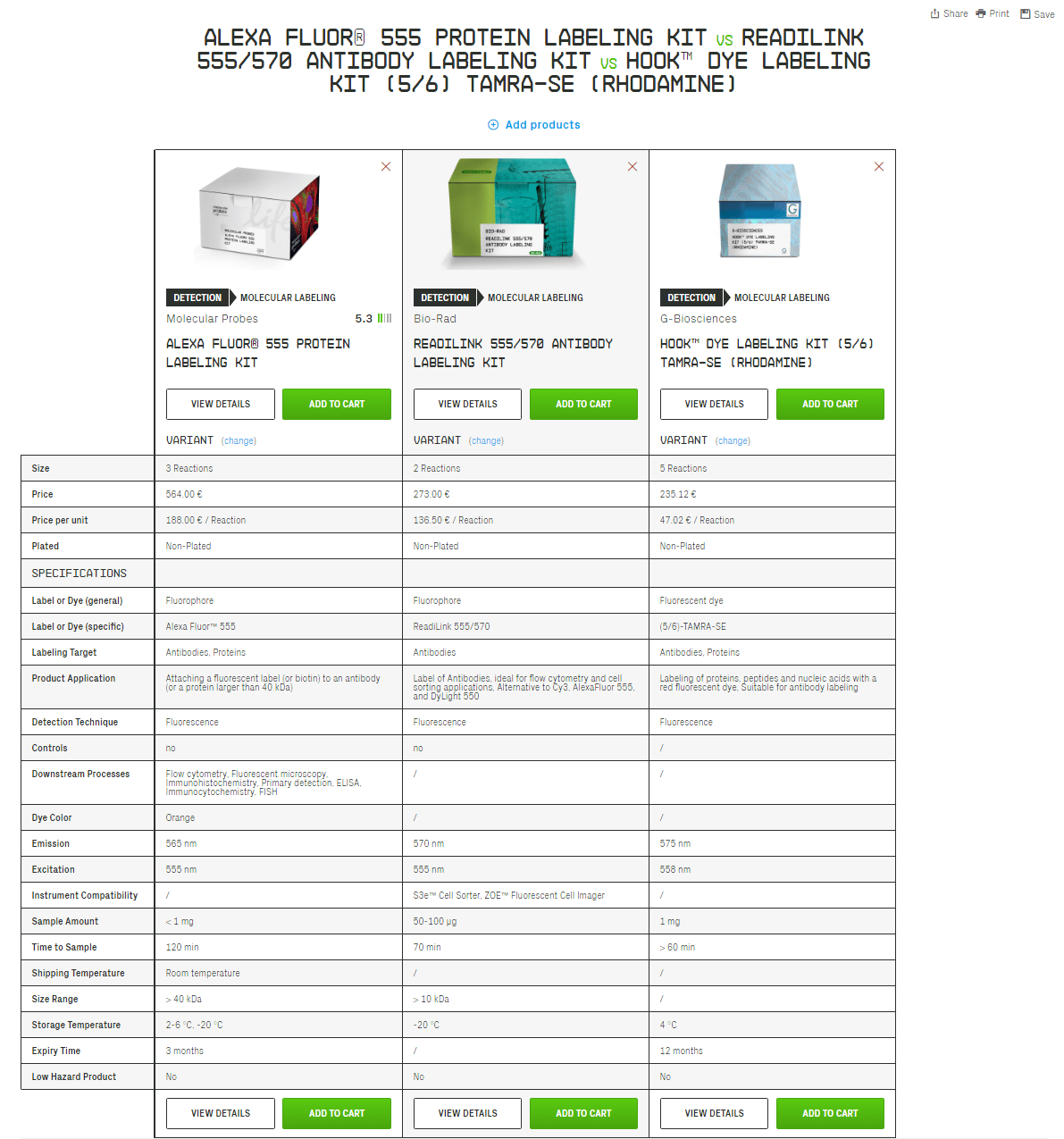 For example, this comparison shows:
that the ALEXA FLUOR® 555 PROTEIN LABELING Kit from Molecular Probes can be used to also label proteins.
that the READILINK 555/570 ANTIBODY LABELING Kit from Bio-Rad accepts samples as small as 50 µg.
that the HOOK™ DYE LABELING KIT (5/6) TAMRA-SE (RHODAMINE) Kit from G-Biosciences is the cheapest per reaction.
This comparison clearly exemplifies how every kit has strengths and weaknesses. Depending on what features you require for your experiment, these details should enable you to make an informed decision on the right kit for you.
The ZAGENO comparison does not highlight one kit to be better than the other, as the kit of choice may vary between researchers - depending on each individual's preferred attributes. The best kit is the one that meets your needs - ZAGENO allows you to make an informed decision with minimum effort.
Check out our How It Works page for a guide to using the comparison function.
Video and Image Credits
Video: nizhgma/YouTube