Results: 1-12 of 100+ products
Lab Plasticware and Supplies on ZAGENO
Can't find what you are looking for? Request the product now and we'll find it for you (typically within 1 hour).
Request Product
Lab Supplies
Plasticware is essential for day-to-day research in the lab. Containing vital solutions or media in the correct manner can be dependent on selecting the right tubes, vials, beakers, jugs or flasks. Research can also be made much easier by having the proper tube stand/rack or a wide range of pipette tips to hand. Even cell growth and infection can be enhanced (or avoided) by having high-quality plates, dishes, and flasks! The equipment may seem basic, however, making the right selection can make a huge difference to your experiments; all of these supplies are indispensible accessories.
Expand your understanding in our Knowledge Section. Perfect your experiments with our Troubleshooting Guides. Join in the discussion within our Community. Learn about ZAGENO at How It Works.

Importance of Plasticware
Tubes and Vials
Tubes can be specially designed to fit into centrifuges, thus preventing damage to the centrifuge and loss of the sample and expense. Both tubes and vials are used for sample collection, storage, and transport.
Dishes
Cell culture dishes are designed to promote healthy cells while allowing clear and accurate imaging.
Pipette Tips
Pippette tips are vital for transferring or adding solution accurately and quickly to the desired location, usually available sterilized for use in cell culture.
Microscope Slides/Cover Glass
Designed to hold thin tissue or cells in place, while spreading the sample evenly, for clear visualization under a microscope. They are usually sterilized to prevent contamination.
Filters
Filters can remove contaminants and therefore sterilize essential solutions such as cell media, serum, and additives.
Microplates
The most commonly used microplate is the 96-well variation, useful for micro-volume storage or serial dilutions. They are also helpful for carrying out repeats of certain experimental conditions in parallel with one another.
Compare
With our compare function, you can avoid all the time and energy wasted sifting through multiple web pages from different suppliers. At ZAGENO you can clearly see kits side-by-side, with the relevant attributes for each kit neatly in line for easy selection of the best product for you.
Click on the comparison below for a clearer view!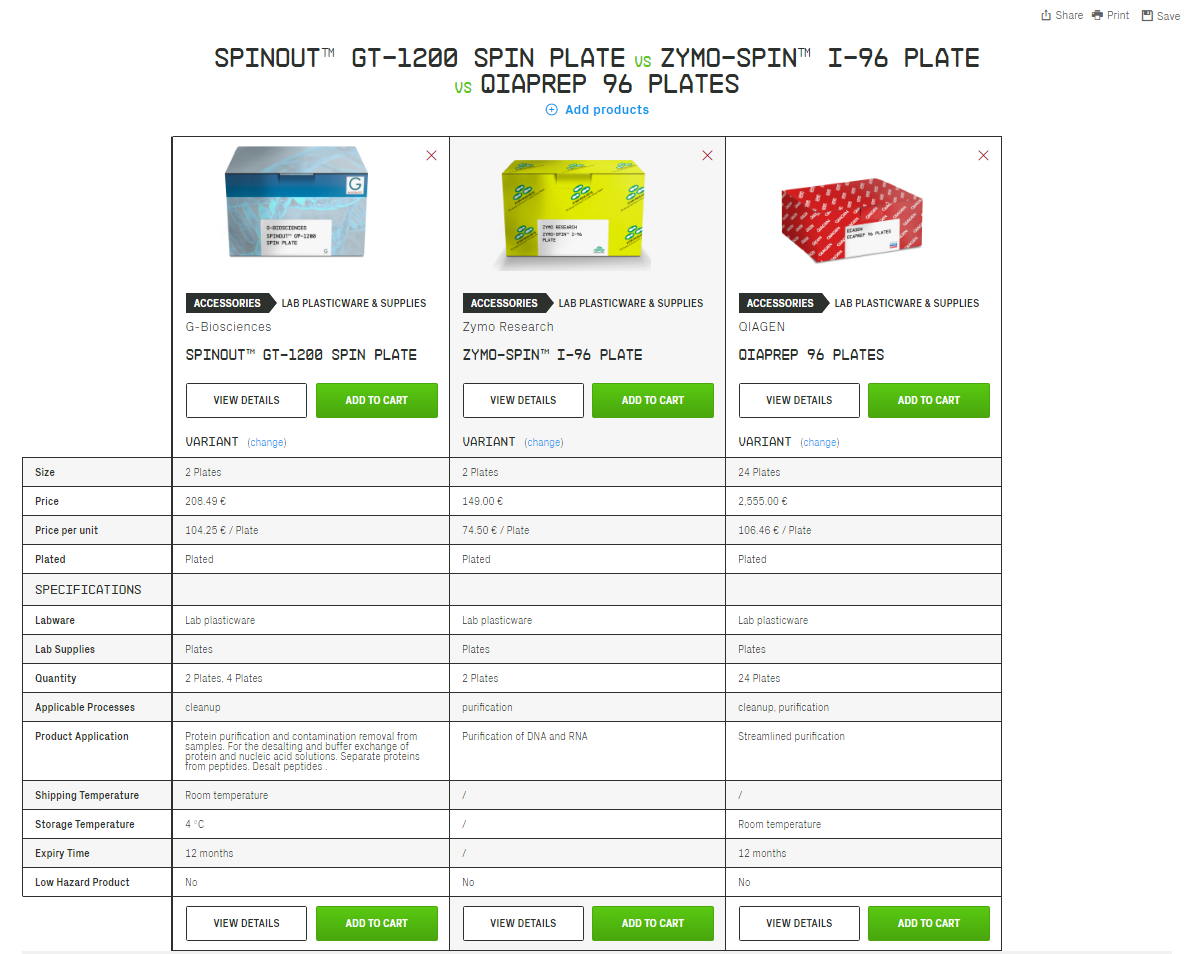 For example, this comparison shows:
that the SPINOUT™ GT-1200 SPIN PLATE Kit from G-Biosciences are compatible with desalting and contaminant removal processes.

that the ZYMO-SPIN™ I-96 PLATE Kit from Zymo Research is the cheapest per plate.

that the QIAPREP 96 PLATES Kit from Qiagen can be used in both cleanup and purification.
This comparison clearly exemplifies how every kit has strengths and weaknesses. Depending on what features you require for your experiment, these details should enable you to make an informed decision on the right kit for you.
The ZAGENO comparison does not highlight one kit to be better than the other, as the kit of choice may vary between researchers - depending on each individual's preferred attributes. The best kit is the one that meets your needs - ZAGENO allows you to make an informed decision with minimum effort.
Check out our How It Works page for a guide to using the comparison function.