Main Steps of Spin Column Use
Lysis – Cells are broken up to release nucleic acids.
Binding – The addition of the lysed sample to a buffer solution and ethanol/isopropanol forms a binding solution. This solution is pipetted into the column and centrifuged, forcing the solution through the silica membrane, to which the nucleic acids bind.
Washing – After centrifugation, the flow-through liquid is discarded and wash buffer is pipetted into the column and centrifuged, so as to remove any impurities.
Elution – After disposing of the wash buffer, an elution buffer is added and centrifuged. The nucleic acid then collects in the follow-through liquid and can be stored or used for downstream research purposes.
Compare Columns!
Below is a selection of kits you may consider for isolating DNA. However, selecting the best one for you can prove an impossible task at times; differing brands and unclear details on manufacturer sites can lead to unnecessary confusion.
With our comparison engine, you can avoid all the time and energy wasted sifting through multiple web pages from different suppliers. At ZAGENO you can clearly see kits side-by-side, with the relevant attributes for each kit neatly in line for easy selection of the best product for you.
Click on the comparison below for a clearer view!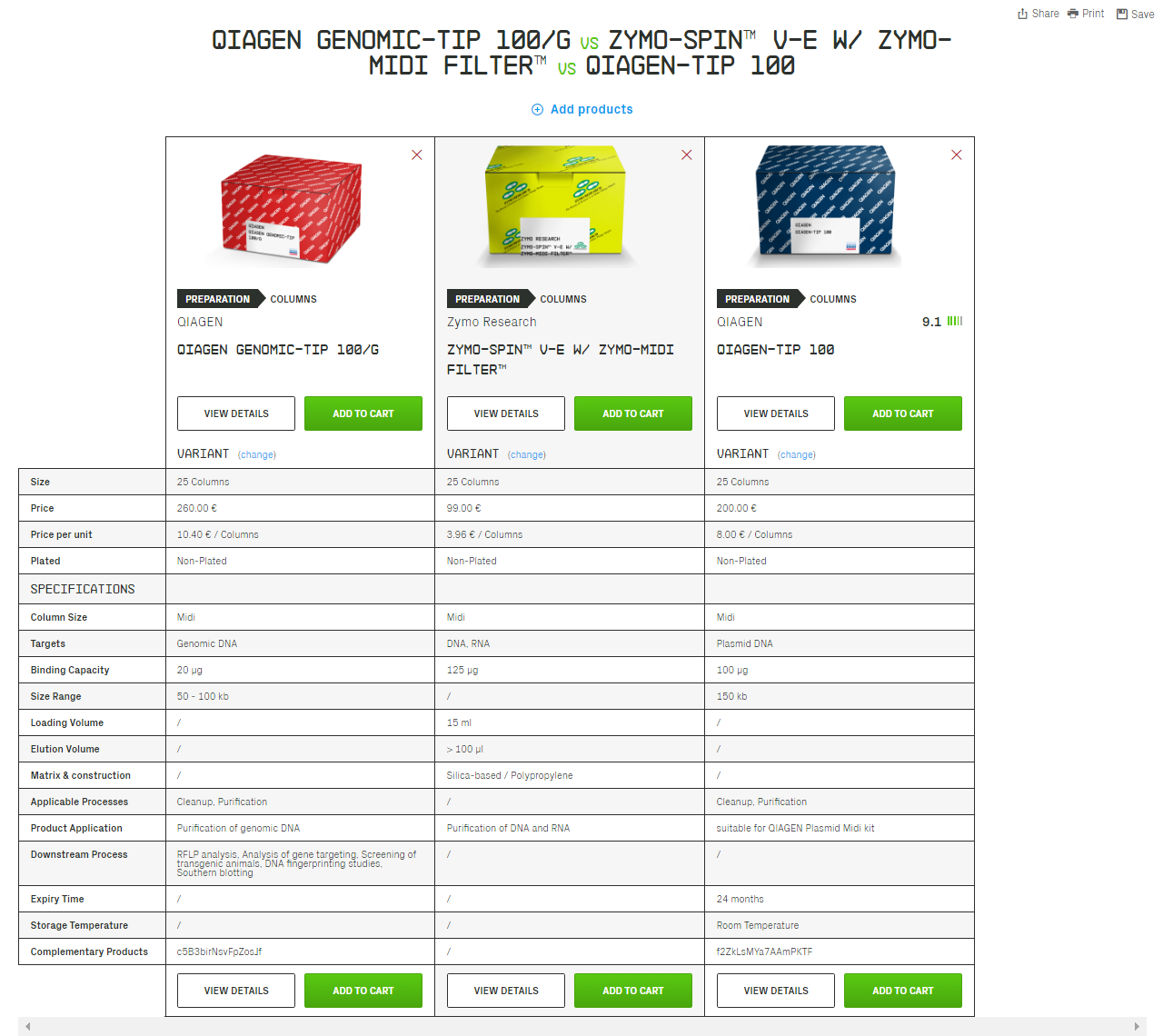 For example, this comparison shows that:
the QIAGEN GENOMIC-TIP 100/G kit has a wide variety of downstream processes.

the ZYMO-SPIN™ V-E W/ ZYMO-MIDI FILTER™ kit is the cheapest per column.

the QIAGEN-TIP 100 kit offers the best binding capacity.
The compare feature clearly exemplifies how every kit has strengths and weaknesses. Depending on what features you require for your experiment, these details should enable you to make an informed decision on the perfect kit.
The ZAGENO comparison does not highlight one kit to be better than the other, as the kit of choice may vary between researchers - depending on each individual's preferred attributes. The best kit is the one that meets your needs - ZAGENO allows you to make an informed decision with minimum effort.
Check out our How It Works page for a guide to using the comparison function.