Expand your understanding in our Knowledge Section. Perfect your experiments with our Troubleshooting Guides. Join in the discussion within our Community. Learn about ZAGENO at How It Works.

His-tag and GST-tag
His-tag and GST-tag protein fusions are commonly used for heterologous protein isolation from E.coli BL21. However, when expressing a eukaryotic protein in prokaryotic systems, you might experience protein degradation and protein precipitation.In this case, or if you plan on examining post translational protein modifications such as protein phosphorylation, you should consider a eukaryotic expression system. While this results in protein modifications that are closer to those of native proteins, they might give some problems when used in combination with some purification tags.
Check our Protein Purification Troubleshoot for tips on perfecting your experiment.
Protein Size
Protein size is also something to consider. The relative size of your tag of choice compared to the protein might interfere with protein folding. For example, it is not advised to use Glutathione S-transferase (GST) fusion for the isolation of small protein for this reason. An alternative would be to use immunoaffinity chromatography, which does not require tagged proteins and can be used for natural sources.
Explore our article: Malaria - Humanity's Deadliest Predator, for more information on the research uses of Protein Enrichment Kits.
Buffer
The buffer used in extraction and purification might also interfere with the protein function or protein assays. High detergent concentration can interfere with protein folding which affects protein activity or protein-protein binding. This can be problematic when determining protein concentration, in particular using the Bradford method.
Compare Protein Purification Kits!
With our compare function, you can avoid all the time and energy wasted sifting through multiple web pages from different suppliers. At ZAGENO you can clearly see kits side-by-side, with the relevant attributes for each kit neatly in line for easy selection of the best product for you.
Click on the comparison below for a clearer view!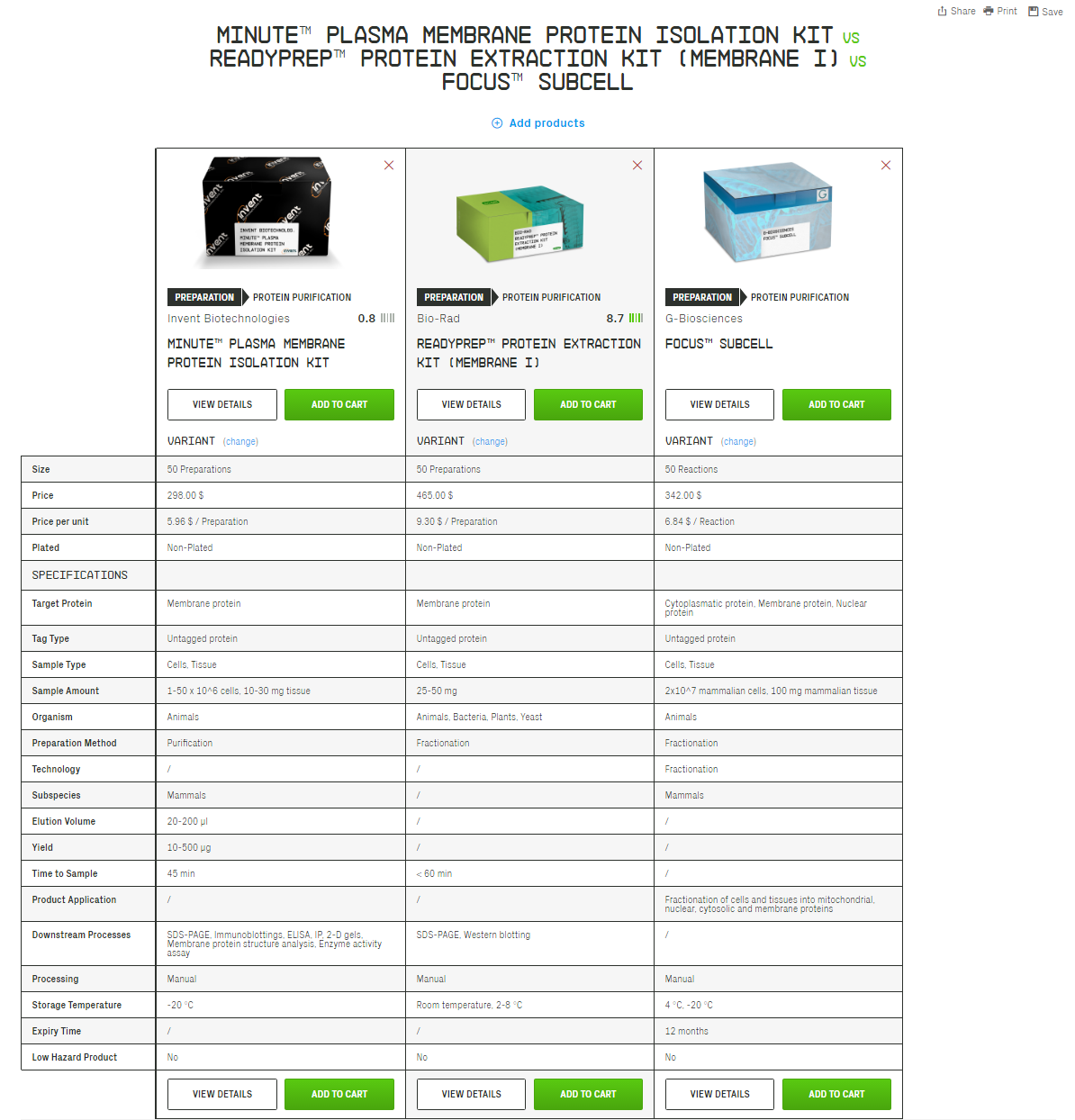 For instance, this comparison shows:
that the Minute Plasma Membrane Protein Isolation Kit kit from Invent Biotechnologies is the cheapest per preparation

that the Readyprep Protein Extraction Kit from Bio-Rad accepts samples from the widest range of organsims.

that the Focus Subcell Kit from G-Biosciences can extract different types of protein.
This comparison clearly exemplifies how every kit has strengths and weaknesses. Depending on what features you require for your experiment, these details should enable you to make an informed decision on the right kit for you.
The ZAGENO comparison does not highlight one kit to be better than the other, as the kit of choice may vary between researchers - depending on each individual's preferred attributes. The best kit is the one that meets your needs - ZAGENO allows you to make an informed decision with minimum effort.
Check out our How It Works page for a guide to using the comparison function.
Video and image credits:
Video: David Johnson, PhD/YouTube