Results: 1-12 of 59 products
Sample Enrichment Kits on Zageno
Sample Enrichment Application
Enrichment allows for amplification of a small subset of targets, or using low quantity inputs. This is useful for many molecular biology applications, particularly sequencing runs, which benefit from the resulting increase in concentration. Enrichment is mainly used for proteins and RNA, since both types of molecules are notoriously difficult to isolate. Further applications include cell enrichment or DNA Methylation enrichment. All types of enrichment are perceived as essential steps in Sample Preparation.
Expand your understanding in our Knowledge Section. Perfect your experiments with our Troubleshooting Guides. Join in the discussion within our Community. Learn about ZAGENO at How It Works.

RNA Enrichment
RNA enrichment extracts certain RNA species from a complex total RNA extraction mixture. This is particularly useful when using transcript analysis techniques such as qPCR or RT-PCR with low-concentration mRNA or with limited sample input. RNA enrichment is also commonly used before RNA seq and after RNA immunoprecipitation, for use in DNA-binding motifs studies.
RNA enrichment can be divided into ribosomal RNA depletion or poly-A enrichment (also known as mRNA selection). The former results in a relative enrichment of all other types of RNA, whereas the latter results in a specific selection for coding RNA, our RNA Enrichment Troubleshoot will help solve any issues you may have.
Ribosomal RNA depletion is particularly useful when you want to retain mRNA and enrich for miRNAs in the same reaction. There are plenty of RNA depletion kits to choose from; your choice will depend on downstream applications and the specific characteristics of the RNA you want to isolate. There are specific kits for partially degraded RNA, RNA extracted from paraffin-fixed samples, bacterial RNA or to depleted polyadenylated rRNA.
In case you are looking for mRNA enrichment only, various companies offer poly-A enrichment kits to address this need. mRNA enrichment is a cost-effective and fast RNA enrichment solution, but will, of course, eliminate all other RNA species from your samples. Moreover, these kits have a 3'-bias when used for RNA-seq application, so they might be best suited for other experiments such as RT-qPCR.
Compare mRNA Enrichment Kits
With our comparison engine, you can avoid all the time and energy wasted sifting through multiple web pages from different suppliers. At ZAGENO you can clearly see kits side-by-side, with the relevant attributes for each kit neatly in line for easy selection of the best product for you.
Click on the comparison below for a clearer view!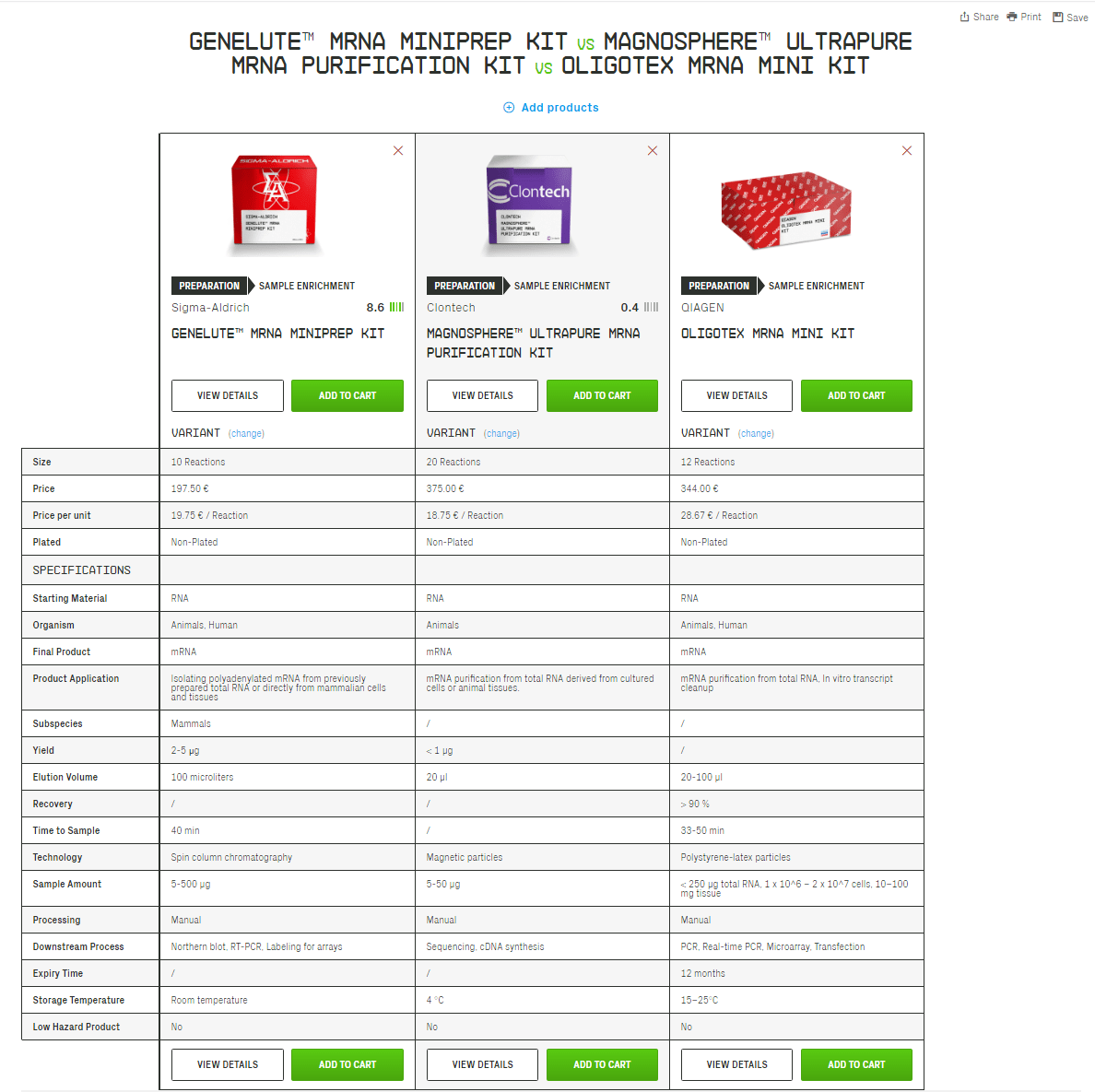 For example, this comparison shows:
the GENELUTE™ MRNA MINIPREP Kit from Sigma-Aldrich can use samples of up to 500 µg.
the MAGNOSPHERE™ ULTRAPURE MRNA PURIFICATION kit from Clontech is the cheapest per reaction.
the OLIGOTEX MRNA MINI KIT from Qiagen offers 90% recovery of sample.
The compare feature clearly exemplifies how every kit has strengths and weaknesses. Depending on what features you require for your experiment, these details should enable you to make an informed decision on the perfect kit.
The ZAGENO comparison does not highlight one kit to be better than the other, as the kit of choice may vary between researchers - depending on each individual's preferred attributes. The best kit is the one that meets your needs - ZAGENO allows you to make an informed decision with minimum effort.
Check out our How It Works page for a guide to using the comparison function.
Video Credits: