Gene Silencing Functionality
Gene Silencing refers to a series of gene editing techniques that reduces the transcription or translation of a gene. In contrast with genetic mutations, gene silencing selectively targets the gene of interest with various silencing intensities, taking advantage of the native gene regulation.
Recently, gene silencing was recognised to be crucial in the study of autophagy.
Expand your understanding in our Knowledge Section. Perfect your experiments with our Troubleshooting Guides. Join in the discussion within our Community. Learn about ZAGENO at How It Works.

RNA interference (RNAi)
RNA interference (RNAi) is a widely used gene silencing technique for the regulation of gene expression. Compared to classic mutants, gene silencing techniques can be used with an inducible promoter or under a tissue- or stage-specific control. When choosing an RNAi kit, there are a few factors to consider.
Firstly, whether you use a synthesized siRNA or if you'd prefer to clone your own. The former is a faster, high-quality solution, whereas custom made synthetic siRNA is expensive. On the other hand, in vivo creation of siRNA creates an entire collection of siRNA against a target gene, which increases the chances of a successful silencing. While this is a lengthy process, there are kits that can make the process easier.
Secondly, the method of siRNA delivery in the cell. While synthesized siRNAs can be delivered directly with dedicated reagents or physical methods such as magnetic beads, it is also possible to express RNAs that will be processed in the cell to become siRNAs. This approach requires the use of specific vectors, but is advantageous by using selectable markers or time- and cell-type- specific expression.
Use our Gene Silencing Troubleshoot to fix any problems which arise.
Compare siRNA Transfection Kits
With our compare function, you can avoid all the time and energy wasted sifting through multiple web pages from different suppliers. At ZAGENO you can clearly see kits side-by-side, with the relevant attributes for each kit neatly in line for easy selection of the best product for you.
Click on the comparison below for a clearer view!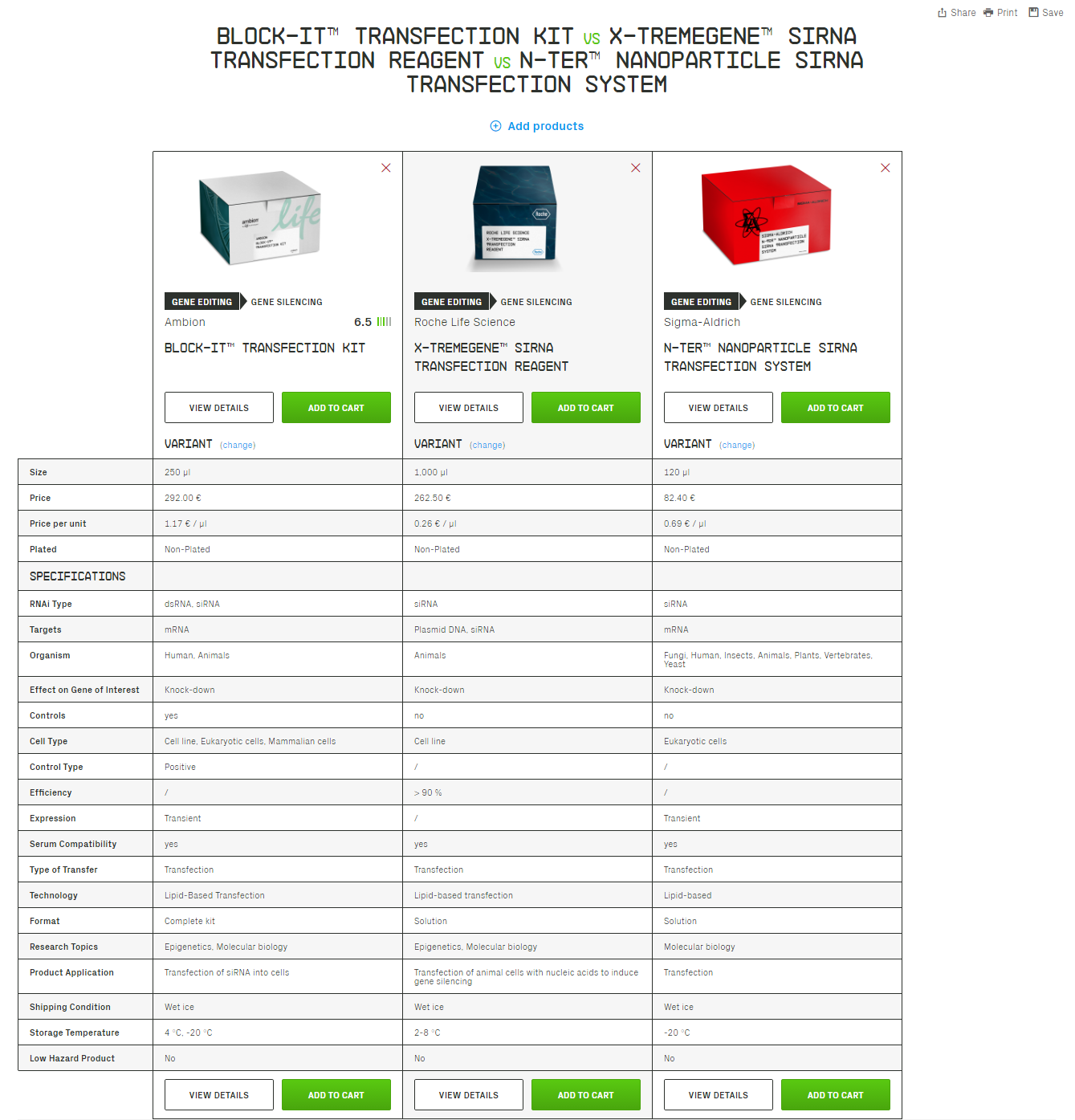 For example, this comparison shows:
that the BLOCK-IT™ TRANSFECTION KIT from Ambion also includes controls.

that the X-TREMEGENE™ SIRNA TRANSFECTION REAGENT Kit from Roche Life Science is the cheapest per µl.

that the N-TER™ NANOPARTICLE SIRNA TRANSFECTION SYSTEM Kit from Sigma-Aldrich can be used with all eukaryotic cells.
This comparison clearly exemplifies how every kit has strengths and weaknesses. Depending on what features you require for your experiment, these details should enable you to make an informed decision on the right kit for you.
The ZAGENO comparison does not highlight one kit to be better than the other, as the kit of choice may vary between researchers - depending on each individual's preferred attributes. The best kit is the one that meets your needs - ZAGENO allows you to make an informed decision with minimum effort.
Check out our How It Works page for a guide to using the comparison function.
Video Credits: