Results: 1-12 of 57 products
Sample Preservation on Zageno
Expand your understanding in our Knowledge Section. Perfect your experiments with our Troubleshooting Guides. Join in the discussion within our Community. Learn about ZAGENO at How It Works.

RNA preservation
All cells contain RNA-degrading nucleases (RNAses) that have various functions ranging from maturation of mRNA to viral defense. The problem for the researcher, however, is that it can be very tricky to prevent the RNA target molecule from being degraded by RNAses before and during the purification procedure. This is particularly the case when in the field where you have no access to liquid nitrogen, or a -80 °C freezer, that can cool the samples to temperatures at which RNAse becomes inactive. An alternative solution at room temperature is to add RNA stabilizing agents and RNAse inhibitors that will allow for later RNA purification.
DNA / protein / tissue preservation
DNA is a fairly stable molecule, but it is still favorable when aiming for a DNA-based analysis, not to have an inadequate sample. Thus, there are many DNA Preservation Kits and chemicals that can be added to your sample to protect it, which is essential during field-work and a -20 ℃ freezer is far away.
Tissues and proteins quickly break down as the samples decay, thus making downstream processes pointless as they will not reflect the actual protein concentrations of the fresh sample. There are many protein and tissue preservation kits available to prevent a reduction in quality.
Compare RNA Preservation Kits!
With our comparison engine, you can avoid all the time and energy wasted sifting through multiple web pages from different suppliers. At ZAGENO you can clearly see kits side-by-side, with the relevant attributes for each kit neatly in line for easy selection of the best product for you.
Click on the comparison below for a clearer view!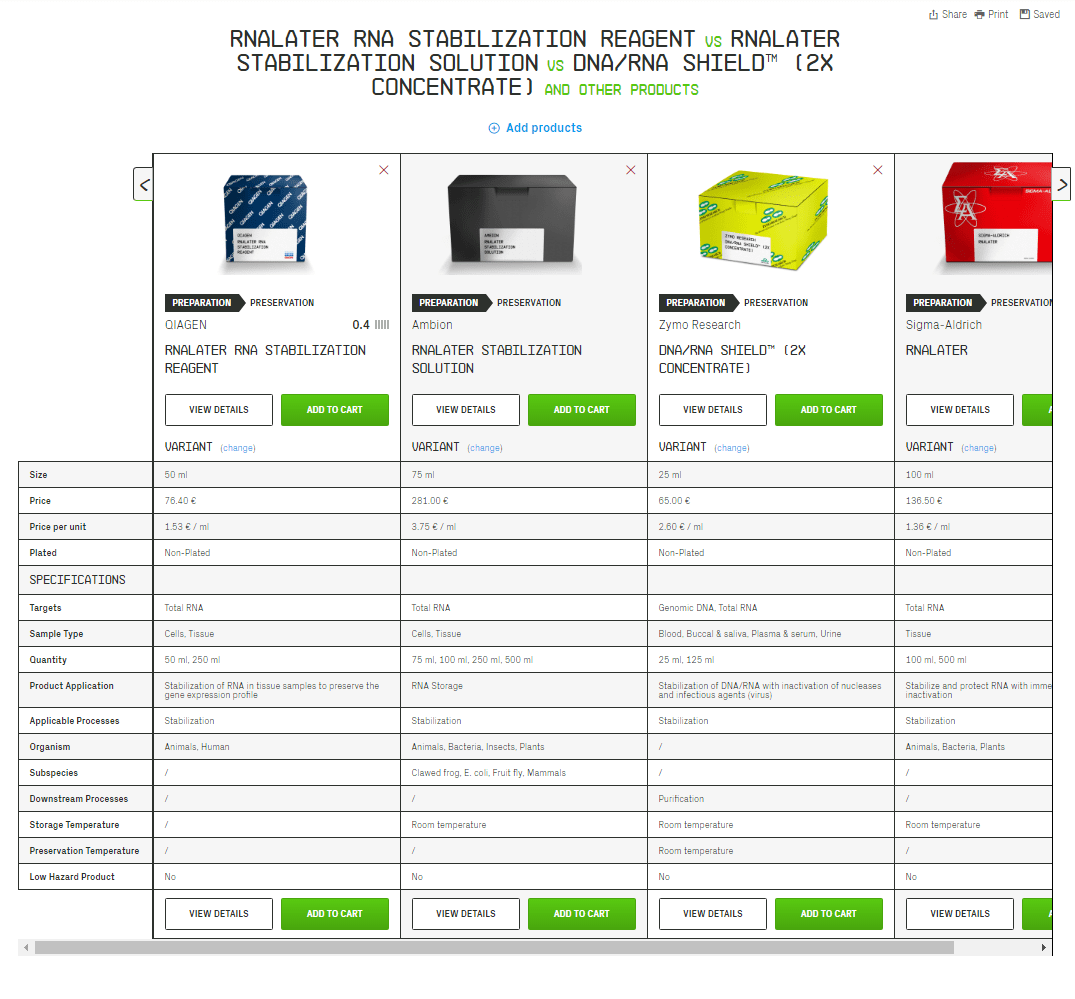 For example, this comparison shows:
the RNALATER kit from Sigma-Aldrich is the cheapest per preparation.
the DNA/RNA SHIELD™ (2X CONCENTRATE) kit from Zymo Research has the largest range of applications.
the RNALATER STABILIZATION SOLUTION from Ambion offers a range of different package sizes.
The compare feature clearly exemplifies how every kit has strengths and weaknesses. Depending on what features you require for your experiment, these details should enable you to make an informed decision on the perfect kit.
The ZAGENO comparison does not highlight one kit to be better than the other, as the kit of choice may vary between researchers - depending on each individual's preferred attributes. The best kit is the one that meets your needs - ZAGENO allows you to make an informed decision with minimum effort.
Check out our How It Works page for a guide to using the comparison function.