Results: 1-12 of 47 products
Sequencing Controls on ZAGENO
Can't find what you are looking for? Request the product now and we'll find it for you (typically within 1 hour).
Request Product
Expand your understanding in our Knowledge Section. Perfect your experiments with our Troubleshooting Guides. Join in the discussion within our Community. Learn about ZAGENO at How It Works.

Using Controls
Sequencing is a central technique in any modern molecular biology lab. Cycle DNA sequencing is routinely used for checking the fidelity of cloning experiments, while next generation sequencing is becoming the new standard for genome analysis and genotyping. Moreover, RNA-seq has established itself as an alternative to conventional expression analysis.
To ensure successful experimentation, calibration sequencing controls should be run every time:
You adjust your camera or sensors
You notice a decrease in the quality of spectral separation.
For NGS systems, software tools like fastqc and ngs qc toolkit can evaluate the quality of nucleotide sequences, hinting whether a recalibration is needed.
Each sequencer supplier will provide standard kits specific for your system, whether you perform nucleotide or protein sequence analysis. The oligonucleotide controls can be labelled with a dye, which may be fluorescent, although some are just known, standard, sequences.
Compare Multicomponent Matrix Standard Kits
With our compare function, you can avoid all the time and energy wasted sifting through multiple web pages from different suppliers. At ZAGENO you can clearly see kits side-by-side, with the relevant attributes for each kit neatly in line for easy selection of the best product for you.
Click on the comparison below for a clearer view!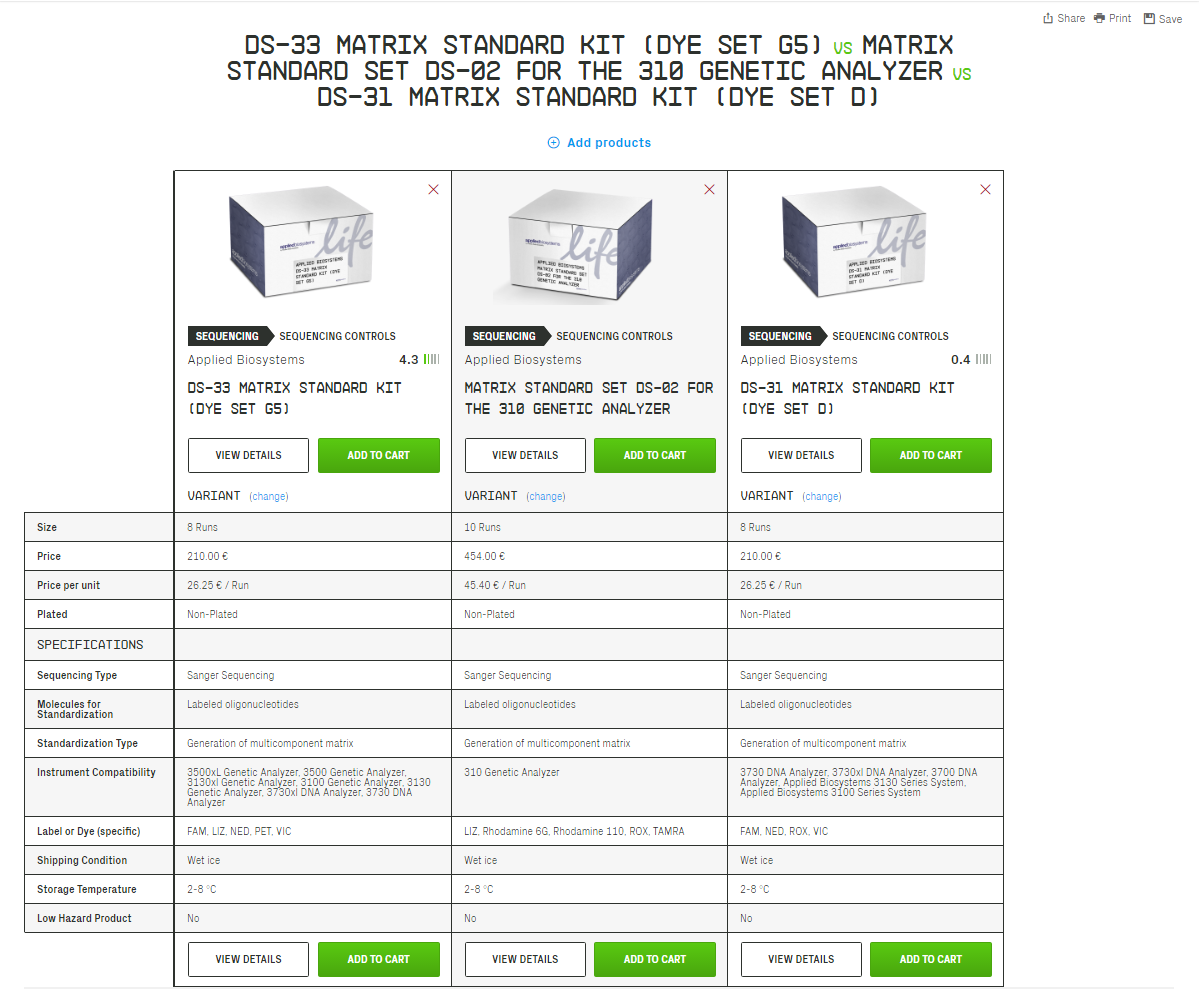 For example, this comparison shows:
that the DS-33 MATRIX STANDARD KIT (DYE SET G5) Kit from Applied Biosystems is cheapest per run.

that the MATRIX STANDARD SET DS-02 FOR THE 310 GENETIC ANALYZER Kit from Applied Biosystems can be applied to the many types of labeled oligonucleotide.

that the DS-31 MATRIX STANDARD KIT (DYE SET D) Kit frim Applied Biosystems is cheapest per run and can be applied to ROX-labelled oligonucleotides.
This comparison clearly exemplifies how every kit has strengths and weaknesses. Depending on what features you require for
your experiment, these details should enable you to make an informed decision on the right kit for you.
The ZAGENO comparison does not highlight one kit to be better than the other, as the kit of choice may vary between
researchers - depending on each individual's preferred attributes. The best kit is the one that meets your needs - ZAGENO allows
you to make an informed decision with minimum effort.
Check out our How It Works page for a guide to using the comparison function.