Results: 1-12 of 16 products
Lab Analysis Software Kits on ZAGENO
With lab analysis software it is now possible to reference samples to online databases, this is especially important as more and more databases are being stored online, inlcuding sequencing data. In this category, you can explore some of the products available for the various platforms that are available on the market.
Expand your understanding in our Knowledge Section. Perfect your experiments with our Troubleshooting Guides. Join in the discussion within our Community. Learn about ZAGENO at How It Works.

What this software can do
This software can allow you to:
identify unknown microbial samples
detect genetic variants
process sequencing data
quantify alleles
detect methylation
provide statistics
as well as many other functions
These functions can improve the time- and cost- efficiency of many experiments. Many instrument manufacturers provide their own analysis software programs to ensure compatibility and optimize the analyses.
Compare Lab Analysis Software
With our compare function, you can avoid all the time and energy wasted sifting through multiple web pages from different suppliers. At ZAGENO you can clearly see kits side-by-side, with the relevant attributes for each kit neatly in line for easy selection of the best product for you.
Click on the comparison below for a clearer view!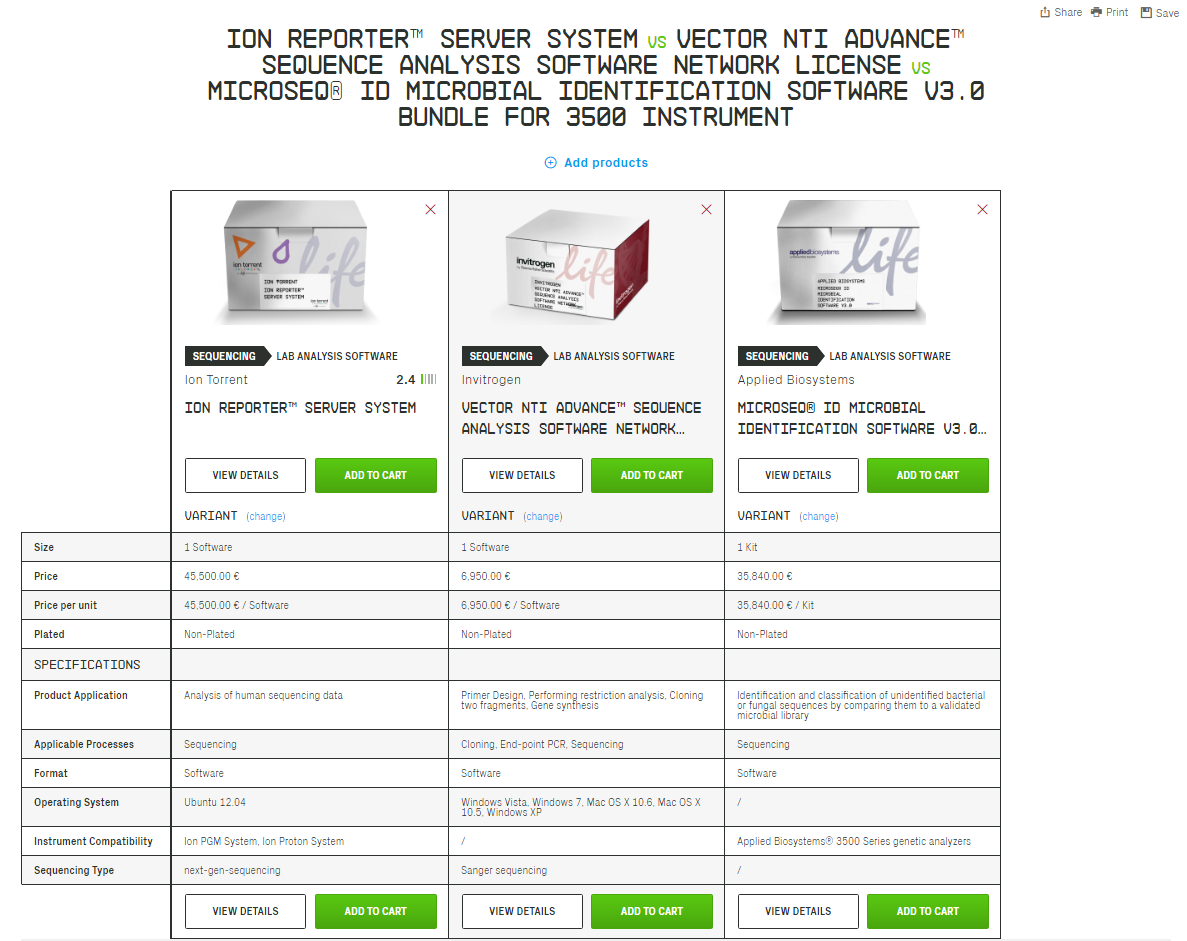 For example, this comparison shows:
that the ION REPORTER™ SERVER SYSTEM Kit from Ion Torrent is compatible with two different instruments.
that the VECTOR NTI ADVANCE™ SEQUENCE ANALYSIS SOFTWARE NETWORK LICENSE Kit from Invitrogen is the cheapest kit.
that the MICROSEQ® ID MICROBIAL IDENTIFICATION SOFTWARE V3.0 BUNDLE FOR 3500 INSTRUMENT Kit can be used to identify both bacteria and viruses.
This comparison clearly exemplifies how every kit has strengths and weaknesses. Depending on what features you require for your experiment, these details should enable you to make an informed decision on the right kit for you.
The ZAGENO comparison does not highlight one kit to be better than the other, as the kit of choice may vary between researchers - depending on each individual's preferred attributes. The best kit is the one that meets your needs - ZAGENO allows you to make an informed decision with minimum effort.
Check out our How It Works page for a guide to using the comparison function.
Discussion
16