How it works
What is ZAGENO?
ZAGENO is a multi-vendor store for life science research materials. We help scientists choose the right products for their experiments by making information easier to find and enabling product comparison across manufacturers. Lab purchasers can quickly get and save quotations, confirm availability and immediately order all products from any vendor using a credit card or a PO number all through a single web browser–with a live chat customer and product support from scientists (give it a try via the small bubble in the bottom-right corner!).
Your benefits at a glance
We thought that scientists, often working on pushing the boundaries of scientific research, should not have to be limited by outdated industry practices.
Many vendor online stores are difficult to navigate, overloaded with information or advertisements, or do not even exist. The most critical flaw that they have, however, is that they are often very limited in terms of usability and functionality. Products are hard to find, almost impossible to compare with other vendors' alternatives, and quoting and ordering still require calling customer service or chasing sales reps.
What we created to address these issues is a multi-vendor store which enables you to manage your lab's purchases, get quotations instantly, and compare all products from all vendors in a transparent and unbiased way. Here, you can order products from multiple vendors simultaneously, save your current quotations for later use, or track the shipping and delivery statuses of all your active orders in a simplified interface. We also offer customized solutions such as punch-out integrations.
Lowest price guarantee
You are probably thinking "What about my existing quotes and discounts?". We realize that either your lab or your department has existing quotations or institutional discounts, which you would like to keep. We guarantee to match these, and we offer you free shipping on all orders on top!
Here is how the price breakdown works:

A standardized catalog
Our database is constantly expanding, with thousands of products from hundreds of manufacturers being added every week. Every new product is given a standard, category-specific characterization which enables the product comparison and a filtered search.
The search algorithms enable you to quickly find the products you already use or identify new ones. To begin, search for a product by its name or catalog number, or by brand using the custom search. Alternatively, you can navigate to your desired application category from the drop-down menu and explore new products.

On the search results page, click on "View Product" to bring up the product details page. Here, you will find all sizes of each individual product grouped together. The navigation bar allows you to access and review all product specifications quickly, go through the package contents or find protocols.

Did you know? You can upload your lab's complete order list to the live chat in the bottom-right corner (or send it via e-mail to marketplace@zageno.com), and we'll make your products available on the website shortly!
The fastest way to compare products is from the search results page. First, narrow down the search results according to your needs using the comprehensive filters on the left side, and then add a few products to your comparison by clicking on "Compare". You can go to the comparison or change the to-be-compared items at any point using the toolbar on the bottom of the page. The comparison itself enables you to see all product specifications side-by-side or see how the prices measure up (e.g. price per purification).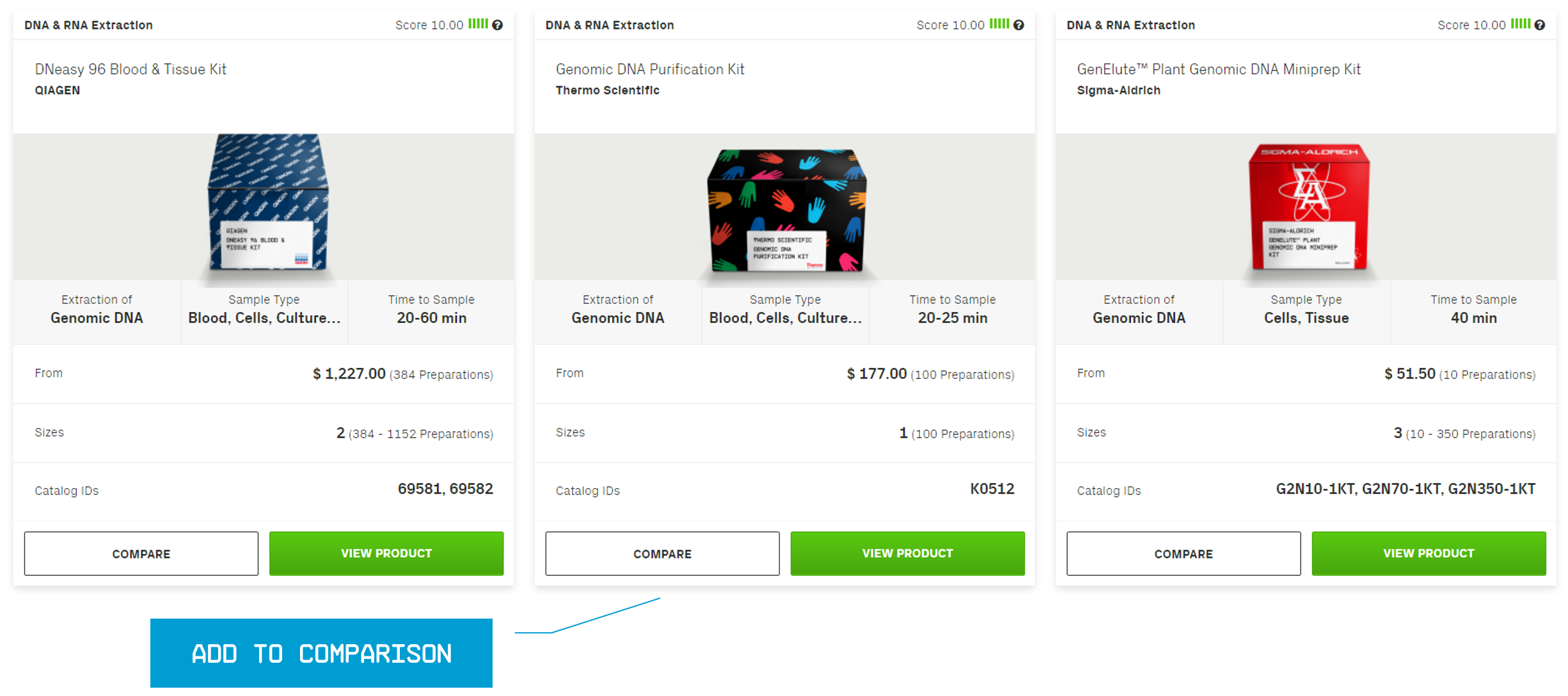 Quotations
Quotations are another aspect which we thought was not supported conveniently enough online. Here's how we make quoting easier for you:
Use your existing quotations
You can quickly save all your existing quotes from all vendors to your ZAGENO account. Send us your quote number(s) at marketplace@zageno.com or attach a copy of your quote through the live chat in the bottom-right corner of the page, and we will add it to your account for later use.
Obtain new quotations quickly
You can add any product to your quotation request on a product details page. You can then directly submit your request or add additional products to the quote. Once you are done, click on "Submit Request", enter your name and e-mail address, and get your new quotation!
Request bulk quotations
Apart from the conventional quotation system, we can also provide you with special offers for bulk purchases and or high-value products. Get in touch with us using the live chat in the bottom-right corner or send your inquiry to marketplace@zageno.com to get your lowest price offer.
3-minute checkout
Clicking on "Add to Cart" on any product details page automatically redirects you to your cart. Here, you can add products from multiple vendors, adjust their quantity, and mark yourself as "tax exempt" (Note: You only need to mark your tax exemption status once, our platform will automatically remember it for future orders). Once you have ensured that all your desired products are in the cart, click on "Continue to Checkout".
At this point, you need to provide your full shipping and billing details. These will be used as your default addresses for your future orders. You can also conveniently save additional addresses to your account if you are ordering for several labs.
The next step is selecting your preferred method of payment. You can use your lab's credit card or a PO number to submit your order.
You then have a chance to finally review all details of your order.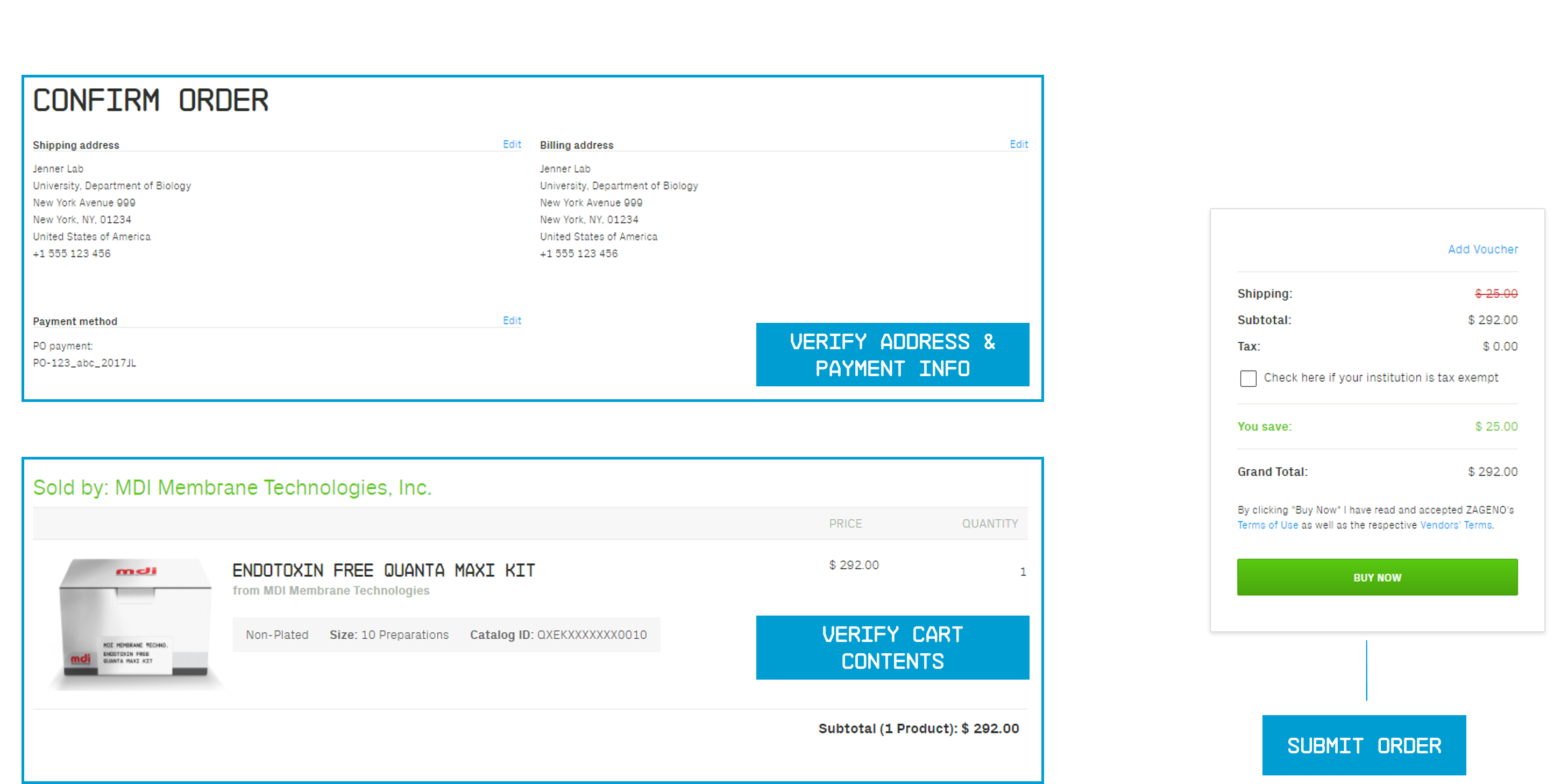 Once done, click on "Buy Now" to submit. Voila!
Your order has been submitted, and you will receive an order confirmation via e-mail shortly. To check the latest status and find additional information (i.e. real-time tracking details, delivery notes) as well as billing documents such as invoices, go to the My Orders section of your account.
For more information, please also have a look at our FAQ section.
We are constantly looking for feedback. Get in touch with us through the live chat or via email at contact@zageno.com and let us know how we can improve our service!