The first question we had when we started ZAGENO was "How can we make life for researchers easier?". Giving an answer to it has ever since been and will remain our main priority, and everything we do revolves around it. Here's an overview of how our platform works and how it can save you precious time and resources:
Our price guarantee for you
In line with our price guarantee policy, you will be able to retain any discounts you currently have with other vendors when placing an order with ZAGENO! Moreover, we cover the shipping costs on every order! And, on top of that, using our service is and will remain completely free! This means that you do not pay any additional costs when ordering through ZAGENO or when using our unique comparison engine!
Here is the price breakdown and what it means for you:

The first step of using the product comparison is selecting potential kits of interest. Hover over the category labels underneath the header and select your desired application category. Alternatively, use the search bar to narrow down the search results according to your personal research needs:

Once you are on the product search results page, you can add (and remove) up to 10 different kits to the product comparison. A small bar will appear at the bottom of the page that contains all currently selected products. You can access the comparison page either through that bar or by clicking on "View" underneath any of the selected kits. You can also access single kits' details pages by clicking on "View product".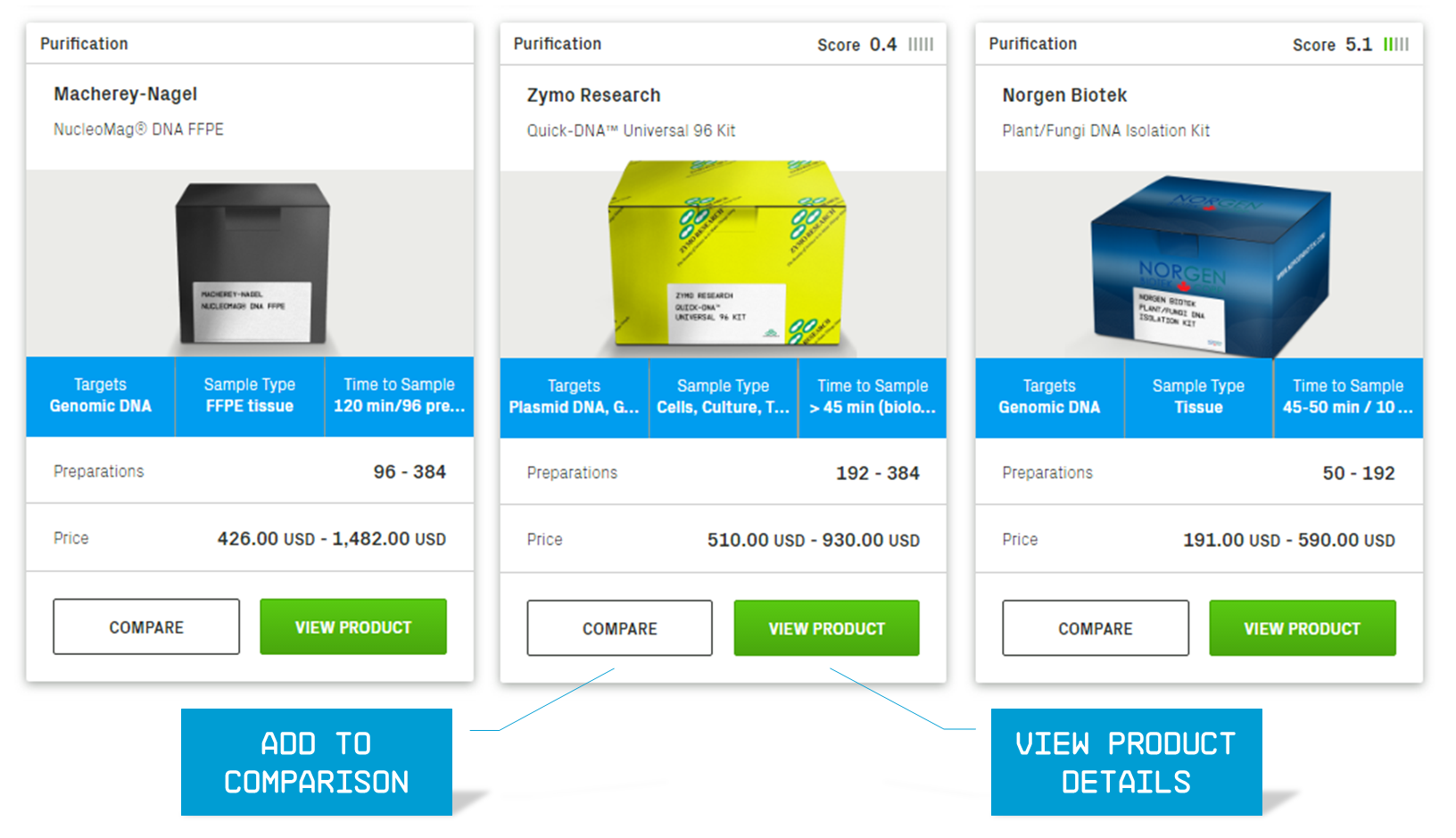 The comparison page is designed to contain all available product details, so you can easily compare multiple criteria at the same time. You can go through all variant details and product specifications of the selected products, as well as directly add kits to your shopping cart or share the comparison via e-mail.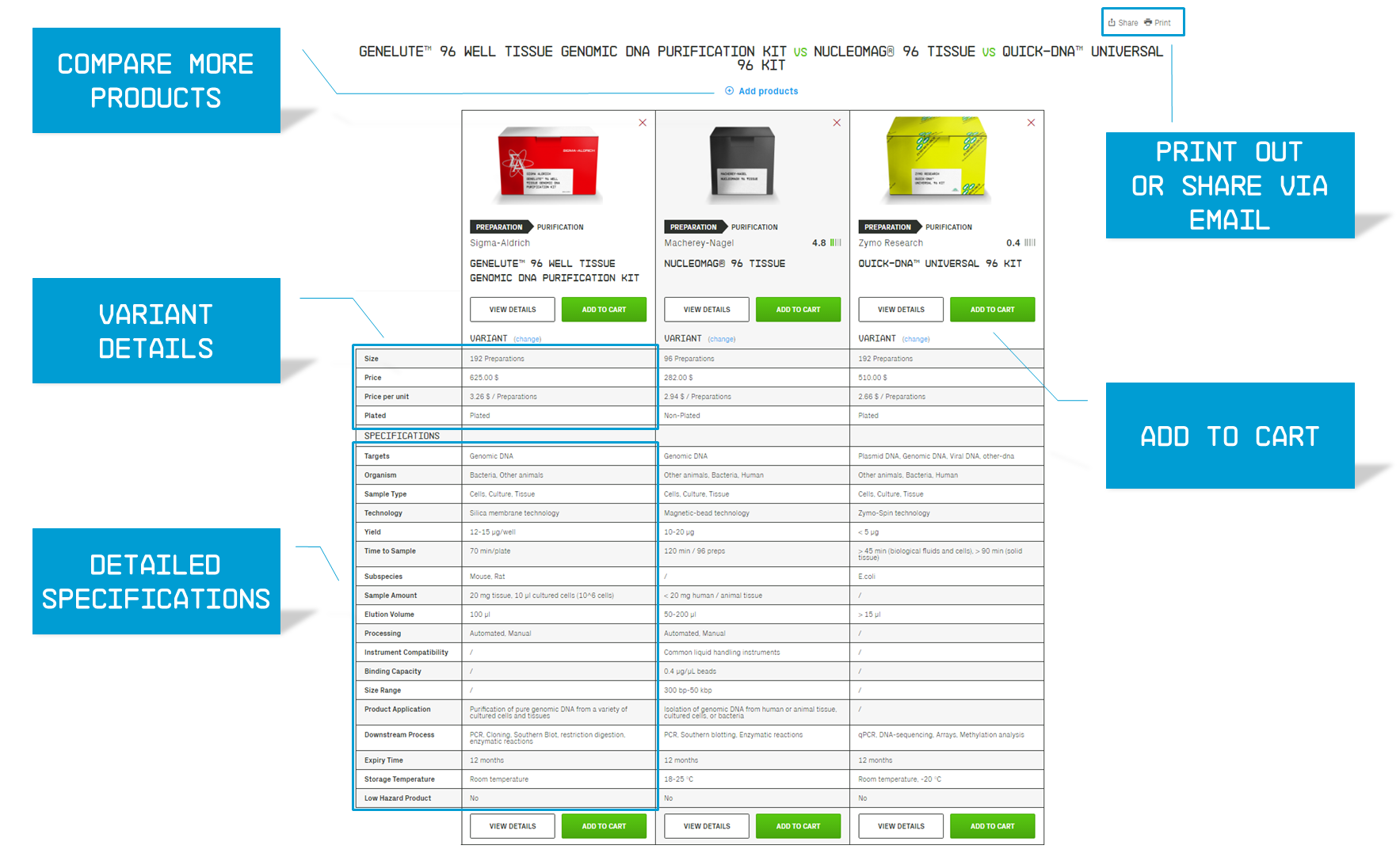 We developed our platform with the main goal of easing the kit ordering process for scientists. As a result, ordering with ZAGENO is as easy as it gets!
Start by clicking on "View product" to open the product details page. This page is accessible both through the product search results page and the comparison page.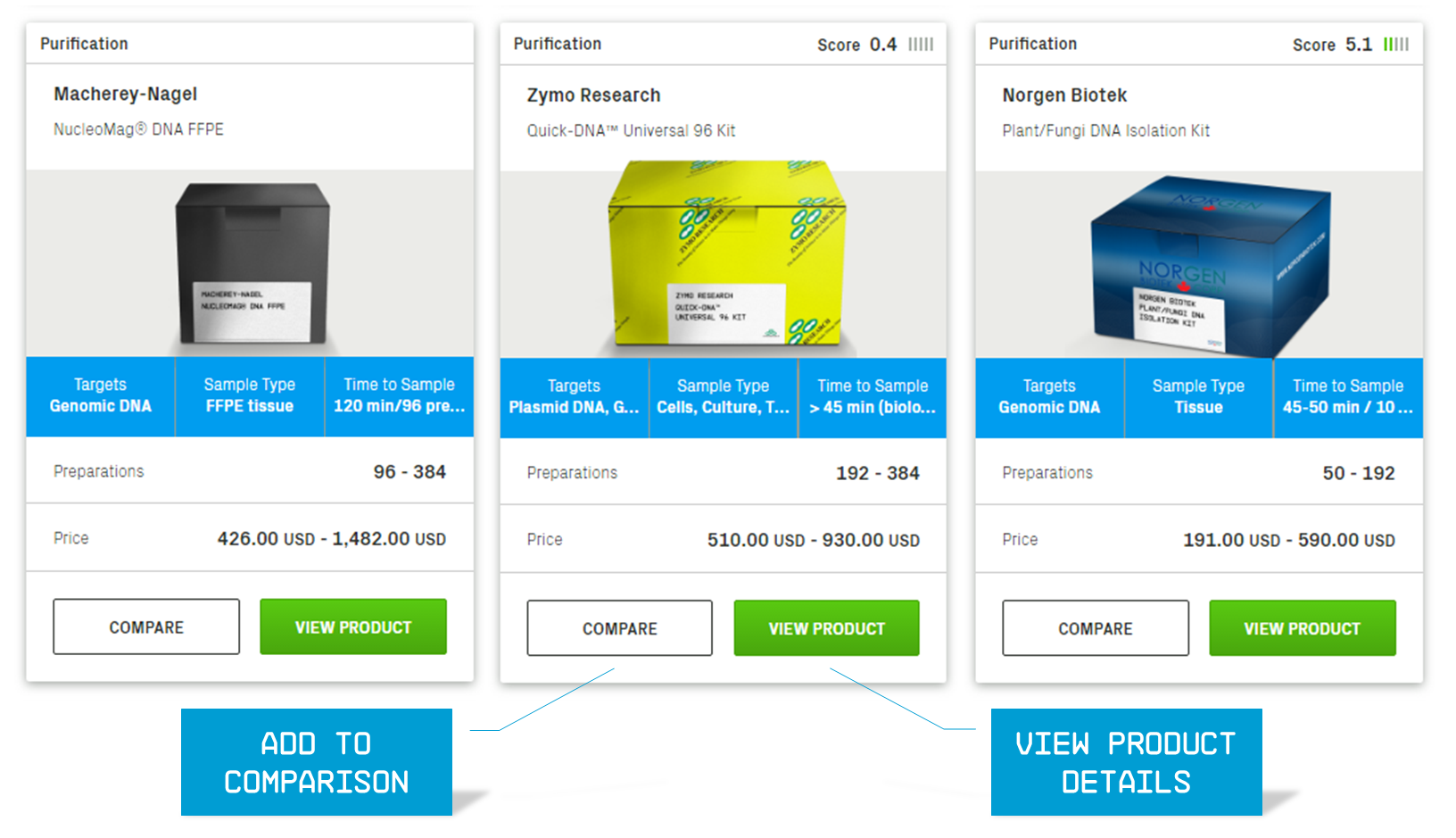 The product details page contains all available information for that product. Here you can quickly jump to your current comparison or add the desired variant of the product to your shopping basket by clicking on "Add to Cart"/"Buy now". Here you can also request a quotation for the selected product.

Clicking on "Add to Cart" automatically redirects you to an overview of your cart. Here you can add and remove products or change their quantity. Once you have ensured that all your desired kits are in the cart, click on "Checkout" to continue.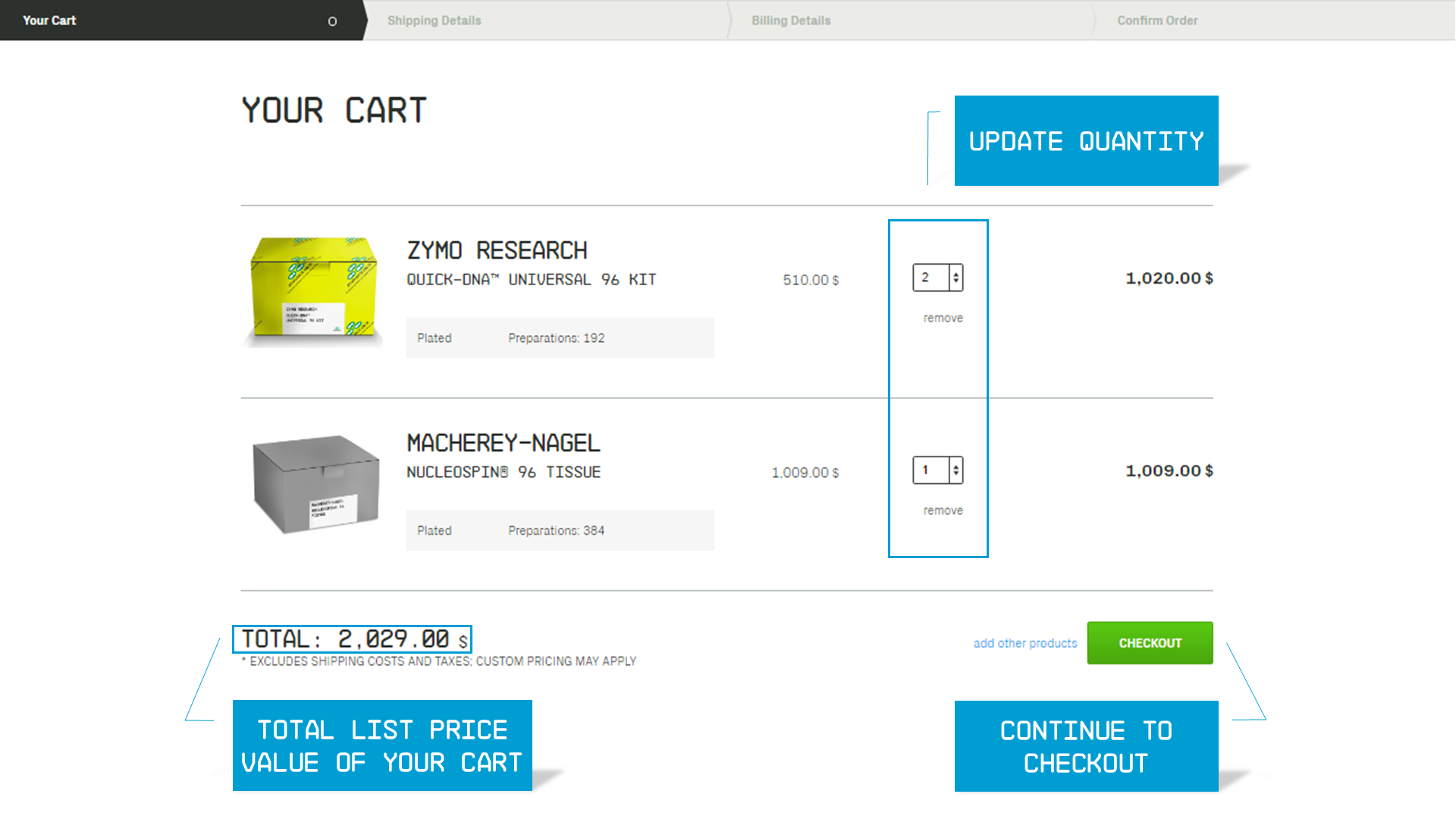 The checkout process is fast and easy, and begins once you've clicked on "Checkout". At this point, you are required to fill out your shipping and billing details. Fill in as many fields as possible to ensure faster order processing. The next step includes selecting the preferred method of payment - invoice or credit card. If you have ordered with us before, all your details are still there. Review them and check out an entire cart in two clicks, regardless of how many vendors you are buying from!
Once you have completed the shipping and billing address forms, you will have a chance to review and edit the cart contents and all billing and shipping details, as shown below. To place your order, click on "Submit Order". You will receive a confirmation e-mail shortly thereafter with the order details. You will receive a second e-mail containing the final price directly from the vendor as soon as your order has been successfully processed.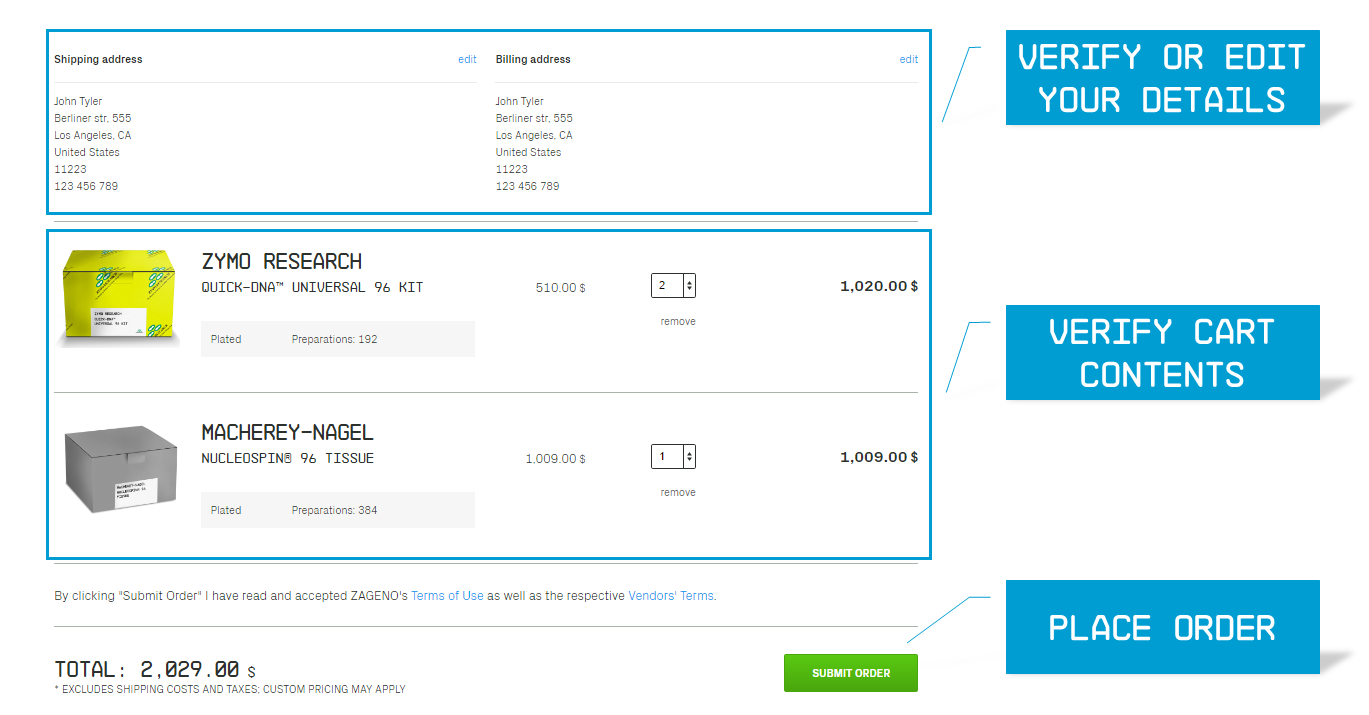 Discussion