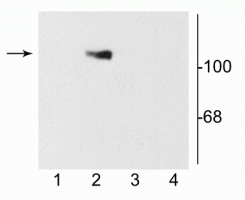 by St John's Laboratory
Anti-NMDAR1 C2 antibody (KLH) SKU: STJ120152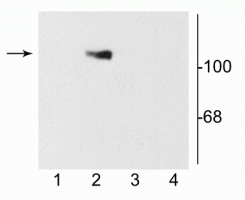 Specifications
Variant Details
Catalog ID
STJ120152-25UG
Supplier Catalog ID
STJ120152
Size
25 µg
Price
$ 607.60
Supplier
St John's Laboratory, US
Package Content
Anti-NMDAR1 C2 antibody (KLH)
General
Clonality
Polyclonal
Host
Rabbit
Reactivity
Human, Mouse, Rat
Applications
Immunohistochemistry, Western Blot
Conjugated
Conjugated
Conjugate Type
KLH (Keyhole Limpet Hemocyanin)
Immunogen
Synthetic peptide corresponding to amino acid residues specific to the NR1 subunit, C2 splice variant insert conjugated to KLH.
Dilution
WB 1:1000; IHC 1:1000-1:2000
Formulation
Lyophilized
Purification Method
This antibody was antigen affinity purified from serum.
Gene ID
24408[uid]
Alternative Names & Synonyms
Anti-Glutamate Receptor Ionotropic-Nmda 1 antibody</br>Anti-Glun1 antibody</br>Anti-Glutamate Nmda Receptor Subunit Zeta-1 antibody</br>Anti-N-Methyl-D-Aspartate Receptor Subunit Nr1 antibody</br>Anti-Nmd-R1 antibody</br>Anti-Grin1 Nmdar1 antibody
UniProtKB
P35439
Swiss-Prot
P35439 (NMDZ1_RAT)
Molecular Weight
120 kDa
Additional Information
The ion channels activated by glutamate that are sensitive to N-methyl-D-aspartate (NMDA) are designated NMDA Receptors (NMDAR). The NMDAR plays an essential role in memory, neuronal development and it has also been implicated in several disorders of the central nervous system including Alzheimers, epilepsy and ischemic neuronal cell death (Grosshans et al., 2002; Wenthold et al., 2003; Carroll and Zukin, 2002). There are a number of different splice variants of the NR1 subunit (Foldes et al., 1994; Zukin and Bennett, 1995). Differential splicing of three exons in the NR1 subunit generates up to eight NR1 subunit splice variants and 7 of these have been identified in cDNA libraries. These exons encode a 21 amino acid N-terminal domain (N1) and adjacent sequences in the C-terminus (C1 and C2). Splicing out the C2 cassette eliminates the first stop codon and produces a new reading frame that generates a new sequence of 22 amino acids (C2&#8242;). Considerable attention has been focused on the distribution and expression of these splice variants that may affect the functional properties and regulation of the NMDAR.
Form
Lyophilized
Shipping Temperature
4 °C
Storage & Handling
Store at-20°C, and avoid repeated freeze-thaw cycles.
Description
Currently, no description is available.
For research use only.