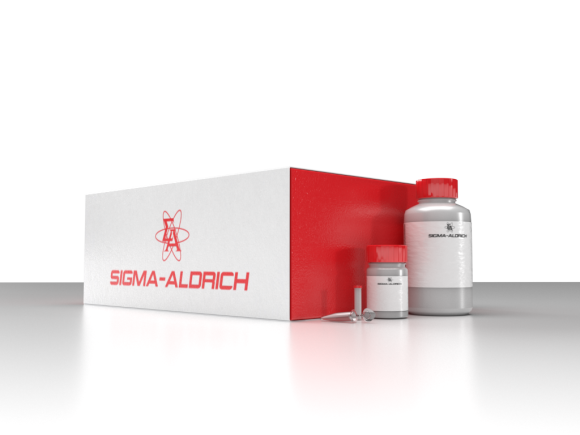 GenElute
™

FFPE RNA Purification Kit

by Sigma-Aldrich

list price:

(with free shipping)

$ 350.00

from Sigma-Aldrich, Inc.

* All your existing vendor discounts still apply!

How we protect your privacy.
Description
GenElute™ FFPE RNA Purification Kit for Total RNA, mRNA, miRNA, siRNA Extraction - Sigma-Aldrich
Sigma-Aldrich's GenElute™ FFPE RNA Purification Kit is designed for extracting Total RNA, mRNA, miRNA, siRNA and excluding unwanted impurities. Compatible inputs include FFPE tissue, and equivalent sample types. Such inputs must originate from Animals, Human or published organisms. Specific sub-species include those mentioned in the product insert and their close relatives. For further information, see Sigma-Aldrich specifications below.
Efficient RNA isolation and optimal yield
GenElute™ FFPE RNA Purification Kit's tailored protocol, Spin column chromatography, and Not specified kit format all facilitate its key lab applications. According to Sigma-Aldrich, these are; Isolate a diversity of RNA species from large mRNA and ribosomal RNA down to microRNA (miRNA) and small interfering RNA (siRNA). For optimal results, the initial sample amount should be at least 20 µm FFPE tissue section (25 mg unsectioned core). Ideal final concentration is attainable with an elution volume of 20-50 µl, (i.e., elution buffer).
Applicable Methods/Experiments
The purified RNA sample is usable in the following methods: Expression array assays, Microarray analysis, Primer extension, RT-PCR, RT-qPCR, and other associated analyses.
For research use only.
Specifications
Single/Multiple Target Kits
RNA
Sample Amount
20 µm FFPE tissue section (25 mg unsectioned core)
Targets
Total RNA, mRNA, miRNA, siRNA
Technology
Spin column chromatography
Product Application
Isolate a diversity of RNA species from large mRNA and ribosomal RNA down to microRNA (miRNA) and small interfering RNA (siRNA)
Downstream Processes
Expression array assays, Microarray analysis, Primer extension, RT-PCR, RT-qPCR
Shipping Condition
Wet ice
Storage Temperature
-20 °C, 2-8 °C
Package Content
Digestion Buffer A
Buffer RL
Enzyme Incubation
Wash Solution A
Elution Solution A
Proteinase K
DNase I
Micro Spin Columns
Collection Tubes
Elution tubes (1.7 mL)
Product Insert
Variant Details
Size:
50 Preparations
Format
Non-Plated
Catalog ID
RNB400
Price
$ 350.00